A Day in the Life
(Originally posted on the website Continuum…)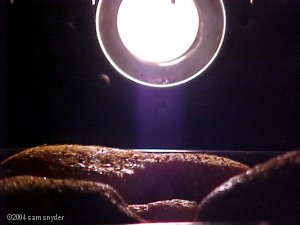 For those of you thoughtful enough (or brave enough) to check out ye olde weblog, here are brief descriptions of the photos in the Day in the Life gallery:
12:01 AM – my hand-written, private journal.
1:09 AM – a book I am currently reading.
2:04 AM – on my way to pick up my son in the middle of the night.
3:11 AM – the recent MAD Magazine that I was reading because I couldn't fall asleep.
8:18 AM – the morning sun coming through the window.
9:31 AM – a rather happy breakfast.
10:13 AM – a commentary on the Gospel of Matthew, written by C. H. Spurgeon in the 1800s.
11:00 AM – one of life's annoyances.
12:29 PM – another of life's annoyances.
1:42 PM – a nap which was much needed after driving at 2 AM.
3:30 PM – a good cup of tea to wake me up again.
4:12 PM – the magic machine that brings you these photos.
5:13 PM – something the world is thankful that I finally did so late in the day.
6:18 PM – the latest Cheap Trick CD.
7:34 PM – the kid I picked up at 2 AM (who is not as cocky as he looks here).
8:22 PM – nope… I'm gonna leave ya wondering on this one! Email me.
9:09 PM – junk food – a true artist's source of inspiration.
10:51 PM – one of the many stars of the movie "Joe's Apartment."
11:38 PM – lights out.