Rand-O-Blog (A Blog of Sorts)



November 30, 2003



Mission accomplished! There is a new journal entry titled "The Secret is in the Seuss." Get yer buns on over there and read it!

Posted at 6:00 PM (EST)


---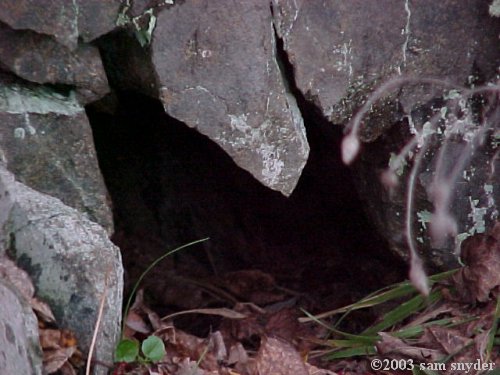 What am I doing today? It's a beautiful day out there. I'm staying inside. I'm content with that today. I'm working on an article for the journal section of the website. As well, I am working on a photo gallery and article for the 26 Things Photo Scavenger Hunt Project. The deadline is tomorrow. So, for today, I am happy to stay inside my little cave, my own creative retreat, nestled high upon the third floor of the house.
Now I must get back to etching that scene of the woolly mammoth hunt on the wall...
Posted at 4:00 PM (EST)


November 29, 2003
I went to see the movie "Master and Commander" with my friend, Greg Hartline, tonight. We purchased two of the last tickets before the show sold out. We got to see the movie, but the theatre was pretty much full by the time we got in. So we had to sit in the very front row. Being so close to the big screen was kind of cool for some of the scenes. However, it was a little too close and became tiring on the neck after a while.
I thought the movie was very good. For most of it, I was "there." I like it when a story can transport me from my "real" life into some grand adventure. Stories about the sea especially have this effect on me. Two thumbs up for altering my state of consciousness for a few hours!
Posted at 10:55 PM (EST)


November 28, 2003
Thanksgiving is my favorite holiday. There is less hype over it. There is less commercialism, less pressure. Compared to other holidays it is as Sunday compared to Monday. It speaks of warmth, relaxation, peace, home. It is a humble holiday.
Posted at 11:05 PM (EST)


November 27, 2003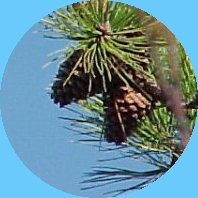 I posted a photo gallery of pictures from this morning, Thanksgiving Morning. There are two parts to the photos.
It was an exceptionally beautiful morning. The sky was mostly clear. The sun brought out some nice colors and cost some great contrasting shadows. The air was crisp but not too chilly. It was a perfect morning for the photography bug to bite me.
It all started when I saw a photo opportunity for a project I've been working on called 26 Things. I stopped along Route 57 after taking my daughter to work. One photo lead to another. I made my way over to the Musconetcong River near Point Mountain. Then I went to the top of the mountain. The brilliant morning was too much to resist. There could not be a better day for taking photos from the vantage point of the top of Point Mountain. Several photos were taken along the trail from the south side of the mountain to the outcrop of rocks on the northern side. A good number of photos were taken in and around those rocks and from the top of them. I even got one of my feet to the blue sky as I fell backwards from the top of one of the great big rocks. (No, I didn't really fall. But it looks that way!) The galleries culminate in a panoramic photo which was made by combining two photos.
It was a perfect morning for photo chasing. I am thankful that I had the time to do so.
Happy Thanksgiving! Enjoy the photos!
Posted at 9:00 PM (EST)


November 26, 2003
New entry posted in the journal section: "What I Saw in Your Eyes."
Posted at 5:50 PM (EST)


November 25, 2003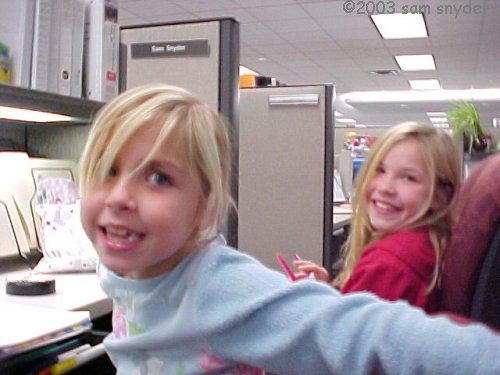 X.2 dropped H and M off at my office this afternoon... all the way from Georgia to New Jersey. Finally! I haven't seen them since the beginning of August. A whole lot of life can happen in three months!
So the last thing I'm doing here at work before being off for the rest of the week is posting this picture of the girls in my cube. They've been here for about an hour. They are getting a little antsy. So I better get out of here. Plus, the younger one, the mildly mischievous one, just farted, then laughed so hard she blew snots out of her nose! Now she's complaining that she has a "serious wedgie." I better get out of here before we all end up in HR!
Posted at 4:30 PM (EST)


---

Thanks to a very cool online forum that I found recently, The Usual Suspects, I was made aware of a group of online writers who have determined to update their websites every day in the month of December, despite the busy-ness of the holidays. The project is called Holidailies.
"Participants in Holidailies have all taken a very solemn vow to update their Web sites every day in December."
The deal is that we write at least 50 words on our sites each day. It's just the kick in the pants that I need to get me writing more. In view of the "solemn vow" mentioned above, I better write! Those TUS people just might come looking for me if I don't!
So, come around often in December. Notices of journal entries will be sent via the notify list. However, I won't pester you with notices of shorter pieces posted to the weblog. So check back often, loyal groupie that you are.
Posted at 12:10 PM (EST)


November 22, 2003
A few pictures taken on the ride home from work yesterday...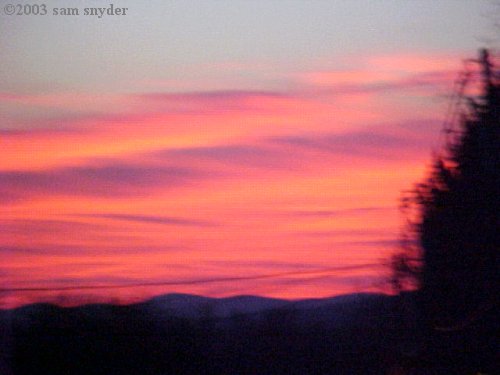 Another beautiful sunset. This picture was taken while on Route 31 in Hampton.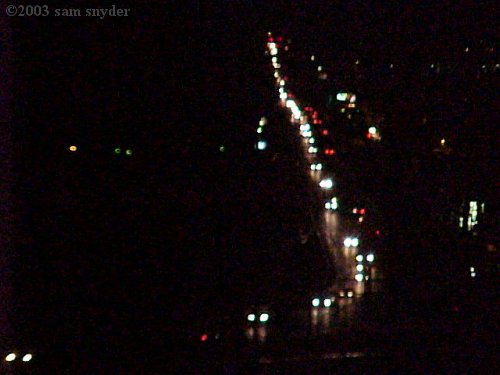 This is a photo of Route 31 traffic taken from Cemetery Hill in Washington not too long after sunset.
Posted at 11:15 PM (EST)


November 21, 2003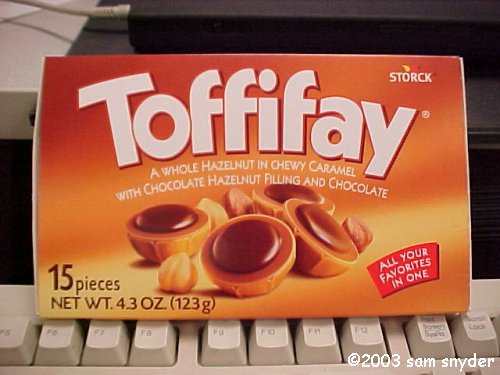 These things are soooooooo good! Oh man!
The only problem is that the name Toffifay reminds me too much of "Tammy Faye."
(If you know who I mean, I bet you lost your appetite and no longer feel like running out and getting a box of these!)
Posted at 11:40 AM (EST)


November 20, 2003
Here are a few scenes from my ride home after work.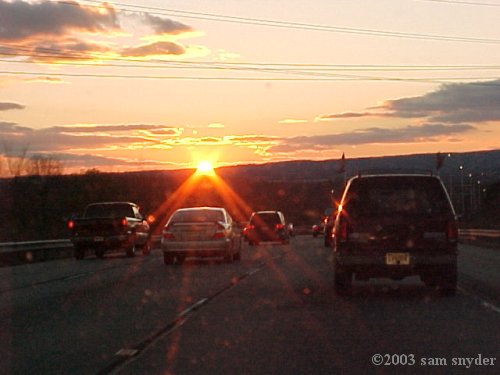 I like how the rays of the sun appear to be about to "beam up" the car in the middle lane. This was taken on Route 78 near Clinton.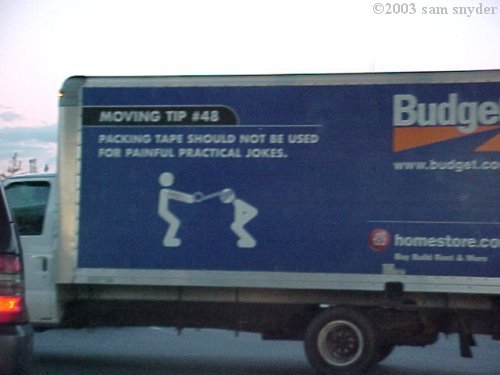 Of course "packing tape should not be used for painful practical jokes!" DUCT TAPE works much better! This was taken while I was getting gas at a Hess station.
Posted at 9:45 PM (EST)


November 18, 2003
There is a new journal entry up, "Rush to a Party", as well as a PHOTO GALLERY with the same title.
Posted at 12:00 PM (EST)


November 12, 2003

I've been reading a few books on freelance photography lately. I was inspired to experiment a little after reading a chapter on abstraction. Abstract photography involves photos of common and often unnoticed objects. It looks for patterns, color schemes, detail. It causes one to look around and consider the objects that are close at hand. It requires you to look at these objects from different perspectives to transform the ordinary into the extraordinary.
I often take abstract photos but don't put them on the site. I may use one now and then to accompany a journal article or something like that. However, recent experimentation has produced a gallery of photos titled "Steel Bearings." I tried to capture the curving patterns, the reflections, the contrast between brightness and darkness. After several dozens shots, seven were worth presenting.
Posted at 2:00PM (EST)


November 11, 2003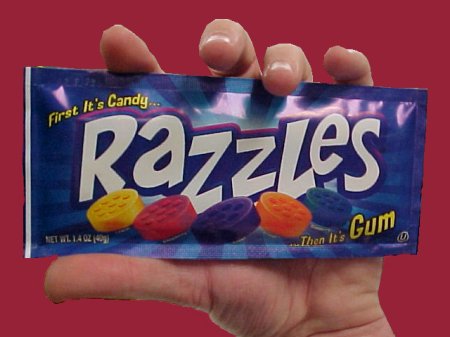 Remember these? Razzles?
This has always been one of the most frustrating candies or gums or whatever it really is. As a candy it doesn't taste that great. When you first chew it, it feels like it's just falling apart into little chunks in your mouth. Then it suddenly morphs into gum. However, the flavor only lasts about three seconds and its size shrinks away to almost nothing. Plus, it must have some super synthetic craving enducers designed to drive your taste buds nuts. You can't stop popping these things into your mouth just to replenish the flavor, which only leaves you desperate for another in no time. It's a vicious downward spiral. Before you know it you're strung out on the whole bag and crawling your way back to the 7-Eleven with a big tasteless wad in your mouth, pathetically trying to say, "More Razzles please!" But the dark eyed cashier, whose English vocabulary consists of only six words, hears you say, "My ass leaks cheese," and stupidly points you to the Slurpee machine.
See what I mean by frustrating?
Posted at 12:10 PM (EST)


November 9, 2003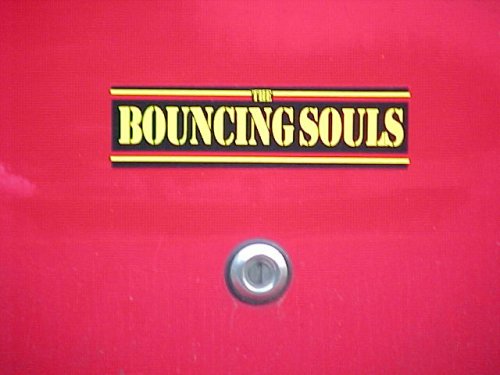 Check it out...
There's a new journal entry: "Here We Go - Halloween With the Bouncing Souls".
Posted at 11:00 AM (EST)


November 4, 2003
There's no place like New Jersey! If you don't love it... don't friggin come here! We won't care! We don't need ya anyway!
How's that for a Jersey attitude? Right on!
As one of my best (and best looking) friends is fond of saying, "New Jersey's a garden... Dig it!"
So here is an ode to New Jersey that my mom passed on to me this morning...

New Jersey is a peninsula.

Highlands, New Jersey has the highest elevation along the entire eastern seaboard, from Maine to Florida.

New Jersey is the only state where all of its counties are classified as metropolitan areas.

New Jersey has more race horses than Kentucky.

New Jersey has more Cubans in Union City (1 sq. mi.) than Havana, Cuba.

New Jersey has the most dense system of highways and railroads in the US.

New Jersey has the most diners in the world and is sometimes referred to as the Diner Capital of the World

New Jersey is home to the original mystery pork parts chub (no, not spam) Taylor Ham or Pork Roll.

Home to the less mysterious but best Italian hot dogs and Italian sausage w/peppers and onions.

North Jersey has the most shopping malls in one area in the world, with seven major shopping malls in a 25 square mile radius.

New Jersey is home to the Statue of Liberty and Ellis Island.

The Passaic River was the site of the first submarine ride by inventor John P. Holland.

New Jersey has 50+ resort cities & towns, some of the nations' most famous: Asbury Park, Wildwood, Atlantic City, Seaside Heights, Long Branch & Cape May.

New Jersey has the most stringent testing along our coastline for Water Quality Control than any other seaboard state in the entire country.

New Jersey is a leading technology & industrial state and is the largest chemical producing state in the nation when you include pharmaceuticals.

Jersey tomatoes are known the world over as being the best you can buy.

New Jersey is the world leader in blueberry and cranberry production (and here you thought Massachusetts?)

Here's to New Jersey-the toast of the country! In 1642, the first brewery in America opened in Hoboken.

New Jersey rocks! The famous Les Paul invented the first solid body electric guitar in Mahwah in 1940.

New Jersey is a major seaport state with the largest seaport in the US, located in Elizabeth. Nearly 80% of what our nation imports comes through Elizabeth Seaport first.

New Jersey is home to one of the nation's busiest airports at Newark Liberty International.

George Washington slept here. Several important Revolutionary War battles were fought on New Jersey soil, led by General George Washington.

The light bulb, phonograph (record player) and motion picture projector, were invented by Thomas Edison in his Menlo Park, NJ laboratory.

We also boast the first town ever lit by incandescent bulbs.

The first seaplane was built in Keyport, NJ.

The first airmail (to Chicago) was started from Keyport, NJ.>

The first phonograph records were made in Camden, NJ.

New Jersey is home to the Miss America pageant held in Atlantic City.

The game Monopoly, played all over the world, named the streets on their playing board after the actual streets in Atlantic City.

And Atlantic City has the longest boardwalk in the world.

New Jersey has the largest petroleum containment area outside of the Middle East countries.

The first Indian reservation was in New Jersey, in the Watchung Mountains.

New Jersey has the tallest water-tower in the world. (Union, NJ!!!)

New Jersey had the first Medical Center, in Jersey City.

The Pulaski Skyway, from Jersey City to Newark, was the first skyway highway.

NJ built the first tunnel under a river, the Hudson. (Holland Tunnel).

The first baseball game was played in Hoboken, NJ, which is also the birthplace of Frank Sinatra.

The first intercollegiate football game was played in New Brunswick i n 1889. (Rutgers College played Princeton.)

The first Drive-in Movie theater was opened in Camden, NJ.

New Jersey is home to both of "NEW YORK'S " ProFootball Teams!

The first radio station and broadcast was in Paterson, NJ.

All New Jersey natives:
Sal Martorano, Jack Nicholson, Bruce Springsteen, Bon Jovi, Jason Alexander, Queen Latifa, Susan Sarandon, Connie Francis, Shaq, Judy Blume, Aaron Burr, Joan Robertson, Ken Kross, Dionne Warwick, Sarah Vaughn, Budd Abbott, Sam Snyder, Lou Costello, Alan Ginsberg, Norman Mailer, Marilynn McCoo, Flip Wilson, Alexander Hamilton, Whitney Houston, Eddie Money, Linda McElroy, Eileen Donnely, Grover Cleveland, Woodrow Wilson, Walt Whitman, Jerry Lewis, Tom Cruise, Richard Wojewodzki, Joyce Kilmer, Bruce Willis, Caesar Romero, Lauryn Hill, Ice-T, Nick Adams, Nathan Lane, Sandra Dee, Danny DeVito, Sam Snyder, Richard Conti, Joe Pesci, Joe Piscopo, Robert Blake, John Forsyth, Meryl Streep, Loretta Swit, Norman Lloyd, Paul Simon, Jerry Herman, Gorden McCrae, Kevin Spacey, John Travolta, Phyllis Newman, Anne Morrow Lindbergh, Eva Marie Saint, Elisabeth Shue, Zebulon Pike, James Fennimore Cooper, Admiral Wm. Halsey, Jr., Dave Thomas (Wendy's), William Carlos Williams, Ray Liotta, Robert Wuhl, Paul Robeson, Ernie Kovacs, Joseph Macchia and of course.........Frank Albert Sinatra and "Uncle Floyd" Vivino.
You know you're from Jersey when....

You don't think of fruit when people mention "The Oranges."

You know that it's called Great Adventure, not Six Flags.

A good, quick breakfast is a hard roll with butter.

You've known the way to Seaside Heights since you were seven.

You've eaten at a Diner, when you were stoned or drunk, at 3 a.m.

You know that the state isn't one big oil refinery.

At least three people in your family still love Bruce Springsteen and you know the town Jon Bon Jovi is from.

You know what a "jug handle" is.

You know that WaWa is a convenience store.

You know that the state isn't all Newark. There is also the farmland, mountains and horse country.

You know that there are no "beaches" in New Jersey - there's the shore and you don't go to the shore, you go "down the Shore." And when you are there, you're not "at the shore," you are "down the Shore."

You know how to properly negotiate a Circle.

You knew that the last sentence had to do with driving.

You know that this is the only "New..."state that doesn't require "New" to identify it (like, try...Mexico,...York, ...Hampshire - doesn't work, does it?)

You know that a "White Castle" is the name of BOTH a fast food chain AND a fast food sandwich.

You consider putting mayo on a corned beef sandwich a sacrilege.

You don't think "What exit" is very funny.

You know that people from the 609 area code are "a little different." Yes, they are!

You know that no respectable New Jerseyian goes to Princeton - that's for out-of-staters.

The Jets-Giants game has started fights at your school or local bar. make that eagles-giants!

You live within 20 minutes of at least three different malls.

You refer to all highways and interstates by their numbers.

Every year you have at least one kid in your class named Tony.

You know the location of every clip shown in the Sopranos opening credits.

You know that people from North Jersey go to Seaside Heights, and people from Central Jersey go to Belmar and people from South Jersey go to Wildwood. It can be no other way.

You weren't raised in New Jersey -- you were raised in either North Jersey, Central Jersey or South Jersey.

You don't consider Newark or Camden to actually be part of the state.

You remember the stores Korvette's, Two Guys, Rickel's, Channel, Bamburger's and Orbach's.

You've had a Boardwalk cheese steak and vinegar fries.

You start planning for Memorial Day weekend in February.
And finally...

You've NEVER, NEVER pumped your own gas.
Posted at 12:00 PM (EST)