PENNIES FOR MY THOUGHTS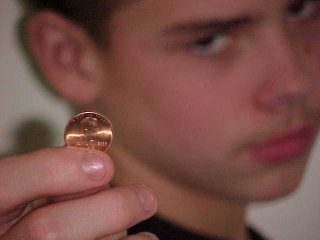 (Originally posted on the website Continuum…)
"A PENNY for my thoughts?"
WELL, today it might cost you several pennies. My thoughts have been all over the place! I am still experiencing that emotional "floating" experience, sometimes drifting randomly like a feather on a summer afternoon, sometimes ricocheting between reality and denial like a steel ball glancing off of bumpers in a pinball machine.
I AM on bereavement leave from work until Monday. That adds to the randomness of my thoughts. At least at work I can concentrate on my projects and tame the wildness of my mind somewhat. I can be around friends who don't share my grief and take shelter in the "life as usual" atmosphere. (Please don't take me wrong. Some at work have been very consoling. Here I mean only that they don't share my grief in the sense that they are not experiencing it first hand as I am.)
IN THE MIDST of the sadness caused by Gram's death, there are also the demands of life that come with such unconcern. Laundry still needs to be done. I did this today. T needed me to go to the middle school and fight a battle for him. I did that yesterday. T, S and J argued as normal teenagers last night. The dishes (the most indifferent group of all) needed to be washed. I did half of them yesterday. S did the rest today.
But I have found that these seemingly uncaring chores carried hidden blessings with them. There is a certain sense of accomplishment when six dryers' worth of clothing has been folded. Plus T went with me and we had fun hanging out together. Speaking my mind on T's behalf to someone at the school felt great! There is nothing like putting a school secretary in her place first thing on a Tuesday morning! When I'm wearing a tie and walking with that certain "I-rule-the-world" kind of stride, you don't want to be getting in my way! Dealing with these things helped to focus my thoughts for brief periods of time. So maybe they weren't such heartless demands after all.
HERE IS a stray thought! While doing the laundry, I kept finding pine needles from the Christmas tree all through our clothes. It reminded me how certain annoying things in life just never seem to go away. They just keep poking you and irritating you. (If you read between the lines here you will probably see X.1 and X.2 as examples of what I am saying. But that is just between the lines. I didn't really say it!)
The persistent pine needles musings then reminded me of a guy I used to work with at "The Dairy." This particular guy was a good guy with a great sense of humor, but he was also a maniac when it came to personal safety. He was insane when it came to dirt bikes and the like! One time he crashed his 4-wheeler while blazing along the railroad tracks. He was so wrecked from that accident! He had countless stitches. The pine needles reminded me of him because, for months after he recovered from the accident, he was picking little pieces of black railroad gravel out of his scalp. It was like they steadily rose to the surface. I won't try to find any moral in his gravelly scalp condition. I just thought I'd mention him.
IN A FEW hours we have to attend the family viewing for Gram. I don't think that anyone in the family is looking forward to this. Making funeral arrangements yesterday was not a pleasant experience. We had to go down into the basement of the funeral home where the paneling has been hanging since the 1960s, all dark and morose, and the plumbing ran clinging along the ceiling painted brown. We looked at caskets. All the while the thought lurked in my mind that Gram was in this house somewhere. My mind insisted on thinking of her enjoying her coffee and laughing as I told her a joke. I certainly wish that that were what I will be viewing in a few hours.
I WILL BE a different man by the end of this day. Perhaps that is what my thoughts keep shying from. Maybe it is the fear of facing life without Gram in it that is causing such disorder in my thoughts. I am sure that that is one thing that I fear. How can I not? She is such a foundational aspect of who I am. Her warmth and her encouragement were always there. She gave the best back rubs in all the world! I remember sitting on the floor in front of the couch while she rubbed my back with her nails in a magical way. I cannot remember her ever raising her voice. I am sure she did. With a mischievous grandson like me, she must have raised her voice at least once! I just cannot hear it now. I don't want to think of her as "gone" or "passed" or any other word for her present condition. I do not want to change and face the world without Gram. Just let me sit this one out. Call in a substitute and let me sit on the sidelines for a while.
If it were really possible to avoid the reality of Gram's passing, what kind of grandson would I be if I followed that easy path? What kind of man would I be? What kind of human would I be?
It is time to get dressed to go.