WHERE'S THE SNOW?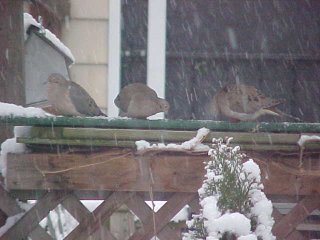 (Originally posted on the website Continuum…)
HEY! Where's the snow??
(Remember the old Wendy's commercial with the old lady that demanded, "Where's the beef?" Heh heh!)
WELL, according to the weather reports on Friday and Saturday, we were supposed to get clobbered with the biggest snowstorm in over 50 years. So everyone in our area crowded into the grocery stores. We stocked up on hot chocolate mix, potato chips and Coke. We bought enough bread to feed four armies for a month. But the prize was the milk! Everyone had to have more milk! We bought enough milk to drown those four armies! The lady in front of me in line for the check out bought four gallons! What are these people thinking? How taxing all this must be on the poor cows! Just because the weatherman starts squawking "Snow! Snow!" does not mean that the cows start producing more milk. When the udder is empty, that's all the milk folks!
YOU KNOW, for 13 years I worked in a milk processing plant. Let us refer to this establishment with the affectionate term of "dairy." I remember those days when snow was on the way. Production demands would go through the ceiling! And we did not deal with gallons of milk. We dealt with "cans" of milk. A can is ten gallons. We were not sissies! We were men! And we did not deal with small amounts of cans either. We dealt with cans by the hundreds and by the thousands. One of our machines alone could pasteurize 600 cans an hour. 6000 gallons an hour! (Yes, 100 gallons per minute. Very good, Einstein!) Now we are talking army-drowning capabilities! But when the snow panic struck even this rate of production was not enough to satisfy the milk-craving consumers.
So, as an ex-dairyman, I would still like to ask you, a civilian, why do you need so much milk just because it is going to snow? Is it just to wash down all that bread that you bought? Did you buy that much hot chocolate mix that you need a tanker truckload of milk for it? Is it the whiteness of the snow that makes you think "Man! I gotta drink milk!"? Do you go on milk binges out of sheer boredom when you are snowed in?
Well, whatever the reasons are for the milk rush before a snowstorm, I am happy to report that I bought only two gallons. That was a calculated purchase too. I figured that three teenagers and one growing father cooped up in a two bedroom apartment for possibly three days, divided by two containers of hot chocolate mix, multiplied by the possibility that the landlord could allow the heating oil to run out during the storm, and divided by the square root of pie (either cherry or apple) comes out to two gallons of 2% milk. Always the smart shopper I am!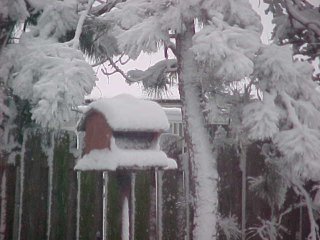 SO back to my original beef: where's the snow??
It began snowing yesterday afternoon as they reports called for. The initial wave of snow seemed to have the promise of being a large storm. It appeared that we might truly get the 25 inches they were calling for. It got icy and slippery on the roads. But by morning there were only a few inches of snow and nothing but more threats from the weathermen that we were going to get it today. And now it is 5:00 PM and no precipitation has fallen in hours! All the schools were closed in anticipation of what the day was to hold. Many businesses were closed. I even decided to stay home from work. Now it feels like all I really did today was waste a vacation day! Who can I hold liable for this??
In reality it was not a waste of a day though. I was able to reorganize much of the clutter in my bedroom closet. I opened several boxes and found a bunch of old memories. I even found my favorite denim jacket that I wore constantly as if it were a natural part of my skin. Now it is too small. I cannot button it. Funny how clothing shrinks when it's packed away for a few years! At this point the closet is clean and there are only two piles of extraneous clutter in the room: one completely covering the bed and the other covering half of the floor in front of the bed! I knew I should have gone to the office today!
I was able to take a walk in the snow late in the afternoon yesterday and click off a few pictures. It is such a peaceful thing to do! No worries about ice on the road. No rushing. No cares about milk or bread or crazy people in the stores. All around is just the sounds of snow falling softly, shovels beginning to scrape the sidewalks, children playing in the yards. I am very happy with the picture of the mourning doves that I was able to capture. Which reminds me. I also saw a flock of snow geese migrating overhead as I was walking. At this time of the year there are many Canadian geese flying through our neck of the woods. But this is the first that I have seen snow geese. They are beautiful white with black tips on their wings. I was not able to take a picture of these geese. But I did gaze up into the falling snow for several minutes and admired them as they went on their way.
AT this point I am sitting tight and holding down the fort here in New Jersey. The reports are still calling for a lot of snow, cold temperatures and windy conditions tonight and into tomorrow. I say, "Bring it on!" I got milk! I got bread! I even have a nice little tray of shrimp and cocktail sauce in the fridge! (A definite necessity in inclement weather!) Let it snow! I'm so excited that I feel like a kid on Christmas Eve waiting for Santa to arrive! I hope it snows. I will just bundle up, grab my camera and go hunting! Sounds like a plan! Now, if only the sky would cooperate!