DANCING FISH AND THE DANNY GODINEZ BAND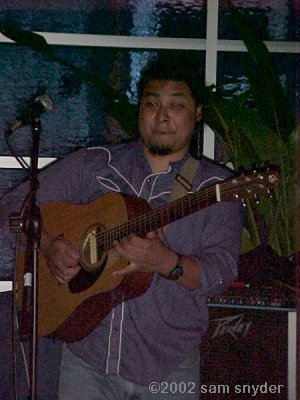 (Originally posted on the website Continuum…)
SOMETIMES the best things happen when you do something on the spur of the moment, something spontaneous. When you are tired of the routine. When it's late Friday afternoon and the full workweek has all but killed your brain. When you make a phone call to hook up with someone you haven't seen in a while and say, "Let's go!" When they are available and it just all works out. That is the best!
Such was the way my weekend started out when I called Cousin AP and asked the magic question: "Sushi?"
We went out for sushi at The Dancing Fish Company in Bethlehem, PA. It was the best! I didn't see any of the fish dancing. Even if the fish tried to dance, it would have been a short little waltz! One of us would have covered it with ginger, dipped it in soy sauce, and it would have been curtains for the fish and delight for the palate! Spider, dragon, Alaska, vegetable and yellowtail were the rolls we feasted on. Plus we had "chicken and ribs." Huh? At a sushi restaurant? But wait! The "chicken and ribs" dish was actually a California roll covered with spicy tuna. Yummy! Add to this a little salad and miso soup. Top it off with an ice cream dessert called "mochi" that brings you to a state of near euphoria, especially the red bean. And you have a meal worth dancing for. Bring a cousin, a good friend, a lovely person onto the stage and you have Fred Astaire and Ginger Rogers cutting up the rug!
AFTER DINNER, Cousin AP and I decided to go to the Pattenburg House. It was only 9:30. Neither of us felt like going home so early. So we went over to Pattenburg to have a drink and maybe catch some music. AP had heard that some guy from Seattle was doing a solo show. We enjoyed the first band, a group of local guys called Dyer Weed. Their music was kind of groovy and fun. Some of the guys in the band weren't even wearing shoes. That's the way it is at the Pattenburg House. The atmosphere is kind of laid back. A lot of people frequent the place and know each other. You can let your hair down, laugh and dance. But since I don't have enough hair to let down, and I don't dance (despite the Fred Astaire analogy above), I just enjoyed watching the band.
The first band finished, packed up and we were excited to see that the act from Seattle was not just a solo singer but a full band. They were the Danny Godinez Band. The who? No, not The Who! The Danny Godinez Band! Although we had never heard of them before, let me tell you, within the first 30 seconds of the very first song we were amazed and knew that we had gotten something worth way more than the little $5 cover charge we paid! These guys were awesome! They were extremely talented, precise, jazzy, rocky, soulful, playful, quiet and explosive! Wow!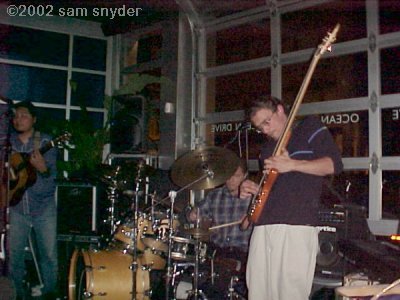 Of course, as a drummer, I watch every move a drummer makes. This drummer was blowing me away! He used everything at his disposal with precision, speed, accuracy and timing. He was a well-trained warrior wielding his weapons and tearing through the crowd.
Yet, when you talk with him, Todd is a mild-mannered kind-hearted guy, an intelligent guy who takes the time to listen when people speak to him. We struck up a conversation when the band took a break and made a connection for me to possibly do some web design for the band and, more importantly, to make a friend.
What about the rest of the band?
Danny Godinez will quickly get your attention with his acoustic guitar. He was smooth and fast. It was obvious that he "becomes one" with his guitar. When a guy uses harmonics, slaps his strings, picks with precision and speed, and masterfully bends his guitar neck to get just the perfect sound, you know that you are getting more than just music. You are getting the man's soul. When he adds smooth singing and even mimics his guitar licks with his vocals, you are getting soul and art.
Danny, as well, is a super nice guy. In fact, all the guys in the band are great people. There is no arrogance among them. They interacted with the crowd in a positive and friendly way. It was great to see. How many times do you see musicians that don't even have half the talent as Danny and his band who have ten times the amount of arrogance and act like their "you-know-what" doesn't stink? Most of the time their music stinks more than their "you-know-what!"
Farko is the bass player. He came from Uzbekistan and hooked up with the others when he came to Seattle to attend music school. Farko is a mighty cool guy to talk with. We really enjoyed talking and laughing with him. It was interesting to hear his story.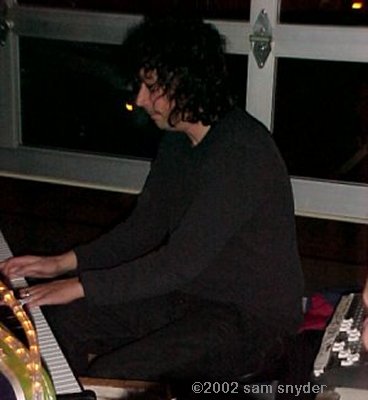 On the keyboards is Joe Raven. Wow! He is all curly hair and lightening fingers! It was a lot of fun to watch him play. Just like the others, he was a delight to talk with as well.
COUSIN AP and I enjoyed ourselves so much that we decided to make the trek to Norwalk, Connecticut to see the band again on Saturday night. I wanted to hook up with them again in order to talk some more about their website and possibly helping them out with that. AP and I both wanted to see them again just to enjoy their incredible music. We were surprised that it took us less than two hours to make the trip. Norwalk was a nice little town. There were plenty of clubs, shops and restaurants around. The band played at a place called Ocean Drive on Washington Street. It appeared to be a little upscale. In fact, we nearly paid more for a glass of wine than you would pay in a store for a small bottle! It was so opposite of the scene at the Pattenburg House. Regardless, AP and I had a good time. She took a lot of good pictures for the band. We had an opportunity to meet some new people. It felt good to get away and do something different.
ONE LAST THING. The Danny Godinez Band from Seattle, Washington is like a secret that no one should keep anymore. When I first heard them I thought, "Why hasn't someone told me about this band before?" It almost felt morally wrong that I had never heard anyone talk about these guys before. Hey! If there is a good band, I want to know about it! Don't leave me in the dark! How dare you! Let's make a deal. Any time you find out about a good band, let me know. I'll do the same for you. And if the timing is right and you are in the mood to do something spontaneous, let's go hear a good band together. Okay? Good!