HERE WE GO – HALLOWEEN WITH THE BOUNCING SOULS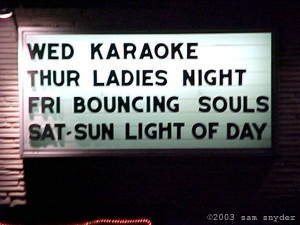 (Originally posted on the website Continuum…)
I could not think of a better way of spending Halloween than going to a Bouncing Souls show. What better place to see them than The Stone Pony in Asbury Park? The Stone Pony was made famous over the years by the likes of Bruce Springsteen and the E Street Band and of Bon Jovi, to name just two New Jersey bands. The Souls are a well known punk band from Jersey with a worldwide following of loyal fans. The Stone Pony plus The Bouncing Souls plus Halloween equals… a damn good time!
First, a little background, then the story.
MY SON and some of his friends love The Bouncing Souls. The first time that I took him to see them was September 12. They played at Irving Plaza in Manhattan along with The Arsons, Strike Anywhere and The Pietasters. Unfortunately, I had a migraine that day. By the time we got to New York, I was operating on my last two brain cells, and one of those was shorted out. So, I didn't enjoy the time. Honestly, the first two bands sounded like consecutive train wrecks. The third band had the most annoying singer. But I did enjoy The Souls. It was either that my migraine medicine was working by the time they came on stage or the sound of hundreds of people yelling "F*** YOU!" when the singer said "East Coast" that jump started my flickering brain cells. Yeah, they have a song called "East Coast F*** You!" Honestly, I love it!
When we found out that The Bouncing Souls were playing on Halloween at the Stone Pony, we were excited. Since seeing them in New York, I had borrowed CDs from my son and a dvd from one of his friends. The more I listened, the more I watched, the more I appreciated this band. There were some last minute fanagling and juggling of responsibilities. Nonetheless, tickets were ordered, arrangements were made, and our attendance at the concert was assured.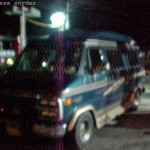 SINCE I drive a little two-door Toyota, and there were five kids and myself going to the concert, we used a van that belonged to one of the kids' parents. It was a big conversion van with plenty of seats, a cd player, a tv and all the comforts of life. It was a mobile studio apartment. It was huge and green, like a rolling mountain, much larger than my tiny red Toyota. In fact, we could have loaded the Toyota in and still had room for everyone!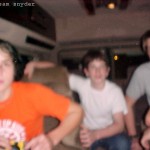 Our first stop on the trip to Asbury Park was at the McDonalds in our own town. Five excited teenagers and one crazy dad is a recipe for chaos in any fast food establishment. From blowing straw papers at the girls behind the counter, to me speaking as if I had brain damage (and my son playing right along with it), we caused a little commotion. People! We were on our way to a punk rock concert! How else were we supposed to act? That's why, when the proper little family in the powder blue mini van blocked our way through the parking lot, one of the kids jumped out of the van and motioned for them to move out of the way. What else were we to do when the man rolled down his window and proceeded to yell at the kid than to give them the middle finger with all sincerity and earnestness? For crying out loud, this is New Jersey! Just to emphasize our sincerity, I drove around the building again, pulled up along side the cute little mini van in the drive up line, and we all gave them the finger one more time. "East Coast F*** You, buddy!" How funny it was when the wife jumped out of the van with her middle finger raised in the air. F*** you, sister! Get back in your van!
Ahhh! New Jersey! Ahhh! Punk rock!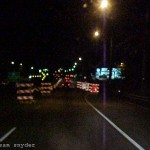 AFTER some time, we finally made it to the Garden State Parkway. We in the front listened to various punk CDs on the way. Those in the back amused themselves with video games. All was smooth sailing until…
We ran out of gas at a toll plaza on the Parkway! It wasn't my fault! I'm used to driving a Toyota! They go forever on a tank of gas!
"What are we gonna do now? I knew it was a bad idea to give the finger to a family in a mini van!"
After a few tries, the van started again. At the toll booth, I was told that there was an exit about a half mile down the road. As it turned out, it was the exit we needed to take for Asbury Park. I was told there was a gas station there.
We made the exit. But we saw no gas station. A little way down the road, the van stopped again. There was no gas station in sight an to make matters worse, all the kids had to pee due to the super size sodas they drank.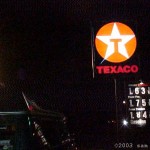 After a few tries, the van started again. (So it's not such bad karma to flick off a mini van family after all!) A little further down the road we saw the ever glorious Texaco star! An oasis! It was up a hill and the traffic light at the intersection turned red as we approached. Yet, we made it into the entrance of the gas station just as the van conked out again. At that point the doors of the van burst open and five boys with bursting bladders burst through the doors in a desperate search for a bathroom. Miraculously, I was able to start the van one more time and pull up to the pumps.
The attendant, obviously bewildered by five screaming boys holding their crotches so as not to piss themselves, said to me, "What happened? What's wrong?"
I replied, "What do you mean? Gimme ten regular, please."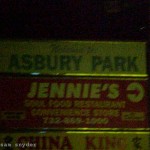 With the gas tank full and all bladders empty, we soon made it to Asbury Park. The club was easy to find. Parking was readily available. We waited in line for some time. Then we were in.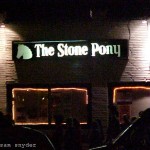 THE FIRST band to play was Let it Burn. They were good. They played their hearts out. The bass player was decked out like Frankenstein. Very cool. The guitarist was a decent punk rock version of Eddie Munster. Also very cool. A very good opening act. And oh… they had the cutest girl (Sharon Stein) in the world playing lead guitar. There's nothing like falling in love while the opening band is playing!
NEXT UP was Tsunami Bomb. Their Scooby Doo costumes were pretty cool. Musically they were good. Their female singer just needed a little more confidence. She's got a great voice, smooth and strong. All in all they were a great act.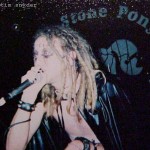 THE THIRD band to perform was Strike Anywhere. Now, you have to love a band whose singer comes on stage dressed as Alice Cooper, eye make-up and all. Awesome! As a diehard Alice Cooper fan, I instantly loved these guys! My admiration was not for nothing either. They sounded great! They sounded much better than they did at Irving Plaza in September. (Though the Stone Pony is small, they do a great job with the sound system there. Much better than Irving Plaza.) They played their guts out and the crowd loved them.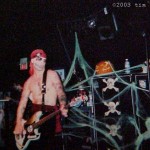 THEN CAME the Bouncing Souls. Just as they did at the Irving Plaza show, the crowd increased their excitement as they waited for the Souls to take the stage. To hear all those kids singing the band's lyrics "Here we go, here we go, here we go," before the band even came out was pretty cool. The kids in Jersey love the souls. It is obvious that the Souls return that love. Even though it's a punk show, there is a certain affection and identification that is communicated from the band to their fans. That is very cool. The Bouncing Souls are not a group of unreachable, untouchable superstars. As the singer expressed from the stage that night, they are just a bunch of guys that get up on stage and "act like a bunch of retards."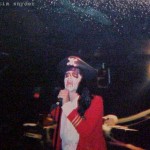 There is so much energy and excitement when the Souls play. The moshing in the crowd was wild! A few times, I got crushed up against the end of the bar where I was sitting. If I wasn't old enough to be everyone's father and didn't weigh almost 220 pounds, I would have jumped right in there and moshed with the best of them. However, the words "law suit" prevented me from doing so.
As their latest album is titled, "Anchors Aweigh," the band came on stage dressed as pirates. They looked fantastic! To complete the Halloween motif, there were plenty of pumpkins and plastic skulls on stage. Being that it was a punk concert, these ended up either smashed on stage or thrown out into the audience. What better definition of a good time than loud music and pieces of pumpkin flying through the air?
AN INTERESTING tradition that the Bouncing Souls have is to print their logo on the back of used work jackets, leaving the original name tags on the jackets. My son has one. Before we went to the show, he assured me that it would not be a "weird dad" thing if I got a jacket for myself. Disappointingly, they were not selling any jackets that night. However, I found one on eBay this week. I watched the auction for a few days. During the last hour, two eBay newbies were bidding like crazy on the jacket. I waited until there were only 45 seconds left and placed my bid. I won. See, I may be too old to jump in a mosh pit, but when it comes to winning something on eBay, I'll kick your ass! And the name on my newly acquired jacket? "Donte." How cool is that? East Coast F*** You! I got a Bouncing Souls jacket and you can call me Donte!
AFTER the show we hung around for a while. We all bought T-shirts and I got another Souls sticker for my car. A real treat for the boys was meeting Johnny X after we hung around long enough. The Souls do a song about Johnny ("Johnny says he's bound by only 6 strings to this world/ Johnny always keeps them one turn out of tune"). He appeared on stage to perform the song with them that night. When we saw him outside, he agreed to a picture with the boys. They were delighted. I was happy to be part of their excitement.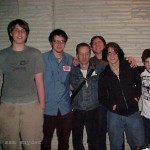 We left Asbury Park, all wound up. What a great show! The ride home was uneventful (other than paying way, way too much for burgers at a rest stop on the Parkway). I remembered to stop for gas before we ran out this time. ! We finally made it home at 3:30 in the morning. I slept until 3 in the afternoon. My ears were still ringing on Monday morning. But I was inspired. Long live punk rock! Long live the Stone Pony! Long live the Bouncing Souls! Long live the middle finger! Long live the opportunities to be involved in the lives of our kids!