Ummagumma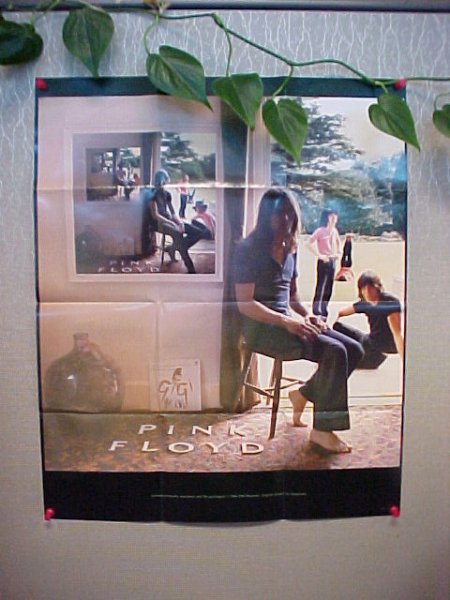 (Originally posted on the website Continuum…)
I got a Pink Floyd poster!
So what?
Noticing that I was starting to overdose on CNN's and NPR's war in Iraq coverage, I decided to go buy some new music last night. I needed something fresh and new. What better music to cure an overdose than Pink Floyd? (?)
I got a remastered CD version of their 1969 "Ummagumma." I had forgotten all about this album. After listening to it, I bet most people have forgotten about it! But how can you not buy a CD that has a song title on it like this: "Several Species of Small Furry Animals Gathered Together in a Cave and Grooving with a Pict?" If that won't distract you from war nothing will!
Okay. Here's the funny part. When I opened the CD there was a poster inside. This caused an instant flashback to the age of 15. Back then I had tried to steal a poster out of Pink Floyd's "Dark Side of the Moon" album. I had the cassette. But cassettes didn't come with posters. There was a girl in the aisle as I slit the plastic album wrapping and dropped the poster in a bag I was carrying. She looked like a stoner, so I didn't worry about her. Well, she was undercover security and I got busted for ripping off a poster! Nothing ever came of the incident. And I did reform my ways. I don't think I've tried to steal any Pink Floyd paraphernalia since then. But all these years I've had to endure life without a Pink Floyd poster. Now I have one. Maybe my karma is improving. Maybe the experiences of my life since 15 have been sufficient punishment and the recording industry gods now deem me worthy of a poster. Or maybe is just further proof that CDs are a huge improvement over cassettes.
The poster hangs proudly… in my cube at work. Not exactly where I would have placed it at 15.
Buy Ummagumma from Amazon.com by clicking HERE.
Posted at 1:00 PM (EST)