The Land of Ice and Snow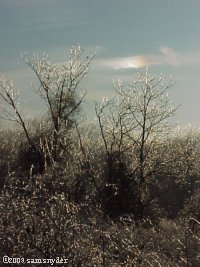 (Originally posted on the website Continuum…)
Other than the roads, most things in our area were still covered with ice this morning. There are still several inches of snow on the ground.
I could not resist the urge to veer off the normal route to work and click of some photos this morning. It is my habit to carry my digital camera with me pretty much at all times. At first I thought I would simply take a few shots on the way as I continued to the office. However, as the sun rose over the mountains ahead, the trees shone as if they were made of glass. Since I had 10 or 15 minutes to spare this morning (amazingly), I turned off the highway and looped back around towards home and off onto some side roads for these pictures.
The photos turned out fairly well considering that I took them all in a short amount of time. I found myself racing against the clock in order to get to work by 9 AM and racing against the sun before it rose too high in the morning sky. As well, I needed to hurry in order to get the photos before the sun began to melt the ice. All in all, I'm pleased with the photos. My only regret is not having a filter in order to minimize the glare from the sun.
As a side note, a very good friend of mine gave me a very nice 35mm camera this past weekend. Once I get it serviced and buy a new flash for it, I intend to start compiling a nice portfolio of prints.
Enjoy the photos in the gallery: The Land of Ice and Snow.