ALICE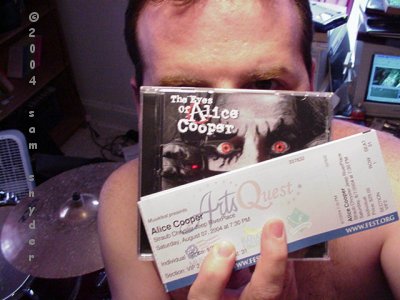 (Originally posted on the website Continuum…)
IF YOU BROWSE around through my journal entries, sooner or later you are going to realize that music is a big part of my life. You will probably realize it sooner than later. My second entry mentions music, none other than The Beatles. However, as you browse, you will realize that I am a super Alice Cooper freak.
Now I realize that some of you will just say, "Well, that just makes you a FREAK period!" Hey, Alice isn't for everybody. But he is for those of us who happen to be cool, those of us who know good tunes (at least Alice's 70's music) when we hear them, those of us who happen to be drawn to the freak show that is Alice Cooper.
Alice isn't all freak though. He's not only about dead babies, boa constrictors, guillotines, and nooses. The music of the original Alice Cooper band, especially, was basic rock-n-roll for the most part. A lot of the darker themes and theatrics were weird and humorous in their own ways. But much of the music was solid and some of it has stood the test of time.
Alice Cooper was originally the name of a band that included Dennis Dunaway, Glen Buxton, Neal Smith, Michael Bruce and Vincent Furnier. Rumor has it that the name Alice Cooper was the name of a 17th century witch that the band contacted through a ouija board. Later, Vincent Furnier took the name as his own. Once the original band split up in 1975, he was Alice Cooper.
There is no denying that Alice Cooper's musical quality suffered after the band broke up. He became better known for his shocking theatrics and concept albums, such as "Welcome to My Nightmare," "Alice Cooper Goes to Hell," and "From the Inside." His reputation for theatrics grew, but the style and caliber of his music was disappointing for most of us who loved the music.
However, there is good news for those of us who loved the music of the original Alice Cooper band! Last fall, Alice released an album called "The Eyes of Alice Cooper." Most of it is in the vein of the old Alice sound. I was thrilled to death when I heard it! (Or should I say I "Loved it to Death?") Finally! The return of the true Alice! "The Eyes of Alice Cooper" is classic Cooper offerings. It has the good old basic rock, a few songs that could lend themselves to theatrics, and the typical Alice Cooper humor. After hearing this album, I felt that my musical life had almost come full circle.
I say "almost full circle" because one thing is lacking. I have never seen Alice Cooper in concert. "For shame!" you say. You see, the Alice Cooper band had split up by the time I discovered them. I was only 12. Their album "School's Out" was the very first album I ever bought. Even if the band still was together then, I was too young to go to one of their concerts. And I certainly couldn't expect my mom to take me. She was too busy listening to her music, evil nasty stuff. I almost saw an Alice Cooper concert later in high school. But that didn't work out. I lost interest after that for a number of years.
For some time now it has been a dream of mine to buy Alice Cooper concert tickets. My dream has been to knock on my cousin's door, tickets in hand, and say, "Look what I got! Let's go!" For it is I who turned my cousin on to the music. I am to blame for my cousin's love of a man named Alice. When I was 12 and he 14, I pulled out my "School's Out" album, which looked like an old school desk with the top that opened to reveal the record wrapped in paper panties. I disrobed the vinyl and gently laid it on the turntable. My cousin fell in love at 33 1/3 rpms.
Last week I had the opportunity to fulfill my dream. Alice Cooper is playing at Musikfest in Bethlehem, PA in August, just 20 minutes away from my home. I bought tickets. No, I bought VIP tickets in the ninth row from the center of the stage. When the tickets arrived in the mail, I wrote my cousin's name on one of them, drove to his house, knocked on his door.
"Hey, cuz… I got something in the mail that has your name on it! Look… right there… And it also has the name 'Alice Cooper' over here…"
"Dude!! You bought Alice Cooper tickets?? And you want ME to go?? Rock-n-roll!!"
That's right, cuz, rock-n-roll. I turned you on to Alice in 1975. I'm obligated to take you to one of his concerts. I've waited a long time for this opportunity. Seeing your eyes light up as you held that ticket was a dream come true. I doubt that even Alice himself can top that.

An AlphaBytes Project – The Letter A