Upward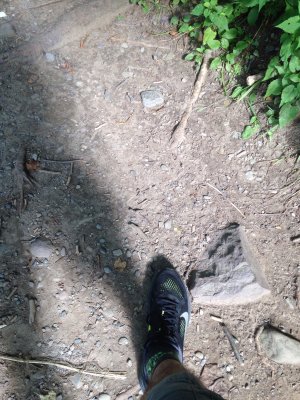 It never felt so good to set foot on a trail as it did yesterday. It had been 19 days since I sprained my right ankle badly. To make it a half mile up Mt. Tammany, carefully, was rewarding indeed. To be walking without crutches, to be walking without a fracture boot, to be able to fit my foot into a sneaker and walk with tolerable pain, felt good. To return to the scene of the crime, so to speak, was a psychological necessity. Even the 30 minutes I spent on the trail was satisfying.
Here's what happened on June 26. It was a Sunday. A nice sunny day, not extremely hot. I arrived at the Delaware Water Gap later than I had planned. By then there were quite a number of hikers on the trails while I was running. I always enjoy the friendly encounters with people on the trails, but it increases the obstacles along the way. This is what led to my downfall. Literally. I was two miles into my plan of 12 to 15 miles. Coming down the mountain, moving rather quickly, weaving between people, I stepped on an unstable rock. My ankle rolled in. Then my ankle rolled out. My ankle completely gave out with the next step. My momentum was too strong and the grade of the hill a little too steep for me to get control and stop myself. While everything seemed to be happening in slow motion, I remembered to tuck my head and roll, just like we did when we were kids. I think the ground has gotten much harder over the years since I was a kid!
My first thought was, "I hope I can finish the rest of my run."
After several steps down the trail, my thought became, "I hope I can make it out of the woods to my car!"
I managed to hobble nearly a mile to the parking lot. I then drove the 30 miles to home. My wife took me to a "walk in" urgent care facility. I'm not sure the manner in which I maneuvered myself into the place would be considered walking in. Then I traded a running shoe for a stylish boot.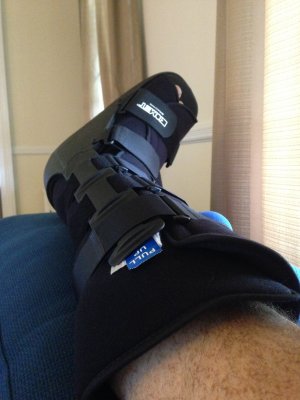 Several sessions of physical therapy and many hours of icing my foot later, I was able to traverse a half mile of the Red Trail up 360 feet of Mt. Tammany's 1,100 feet of elevation gain, at which point there is this wonderful view: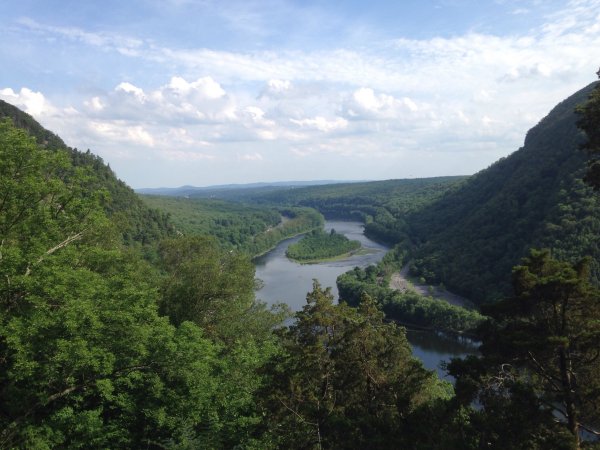 Coming back down the trail was significantly harder on my ankle than going up. I had to be ultra-careful. A slight slip on gravel caused enough pain for me to doubt the wisdom of my decision to go up the trail in the first place.
A funny thing happened along the way down too. I got a phone call. It was an automated reminder of my upcoming appointment with my orthopedist on Tuesday. It was like he sensed I was pushing my limits. Or maybe he was just letting me know he was thinking of me.
I have a long way to go to be back in good running shape. Walking and moderate hiking are now tolerable. I am able to use a stationary recumbent bike for up to 45 minutes. So, at this point, the following picture sums up the way I feel about my progress so far. Onward and upward!