Between Storms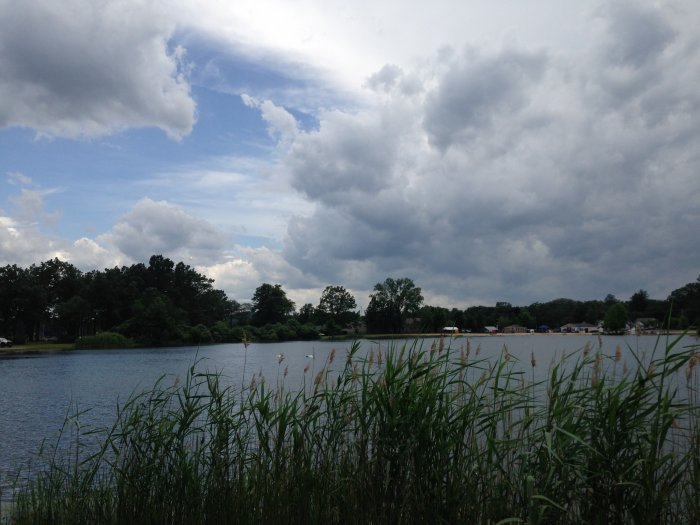 It was a crazy day with storms rolling through one after another. They started mid-morning. I had thrown up my hands by then and said, "There go my running plans! They're calling for storms all day and night now!" It rained HARD at that point. Streams of muddy water were rushing down the shoulders of our road. My plans were washed away.
However, the sun came out a few hours later. It was warm and windy, enough to dry the roads and sidewalks. I looked at the sky and thought, Maybe I can get a 30 minute run in before the next storm. There was no hope of going off to the trails for a few hours. Running in rain is fine. But getting caught out in a thunderstorm isn't cool. So I drove over to a nearby park. There's a lake with a paved walkway that's 1.2 miles long. There's shelter there if needed. I would be satisfied with three laps around that lake.
While out there I thought, There's got to be a metaphor for life in this attempt to run between storms. It's kind of like "make hay while the sun shines." Or "God only gives us what we're strong enough to handle." Well, maybe not that one. Storms happen regardless of whether we're strong enough or even prepared to survive them. A storm can be devastatingly destructive. But do we make the best of the times between the storms, the lulls, the calms? Do we get our miles in while the sun shines? Sometimes storms come fast and furious. There may not be much time to even catch our breath in between.
Here are some things to do in between the storms of life:
Learn from the storms. What did we learn about our strengths and weaknesses during a storm? What did we learn about those around us? What did we learn about life itself?
Prepare for the next storm. We might not know what the next storm will be or when it will arrive. But we can be prepared. We can listen for the sound of distant thunder. We can seek shelter: we can pray, we can think, we can be proactive. We can have stores of provisions in waiting to sustain us through the next storm.
Avoid the next storm. Sometimes we come to realize that we put ourselves in harm's way too often. As we get wiser we can avoid some storms by simply making better choices, living a more honest life, being kinder to others, or being more aware of the harm others intend us. It's foolish to go out into the woods for a run when we hear the thunder coming. We can avoid that storm.
Put in your miles while you can! It's hard to make progress when the urgency of a storm is occupying all our resources. Get stuff done in between storms! Use your strengths! Be creative! Be constructive! Gain ground while the ground is dry! Make the gosh dang hay while the sun shines!
Enjoy the calm. Be at peace. Get some rest. Think. Meditate. Contemplate. Have some fun. Feel good. Even if it's just for 5 minutes.