Fifteen Feet of Pure White Snow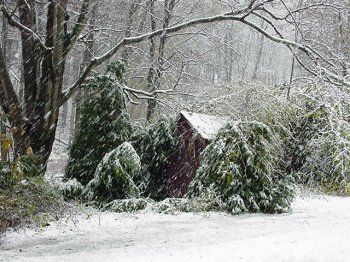 Sometimes my iPod is chillingly clairvoyant.
Four songs that played within 20 minutes of each other on my iPod this afternoon (after last night's snowfall):
"Pictures of Home" by Deep Purple, which has the lines: "I'm alone here, with emptiness, eagles and snow. Unfriendliness chilling my body and taunting with pictures of home."
Then an instrumental by Phil Keaggy called "Icicles."
Third, "Home Again" by Carole King which says, "Snow is cold. Rain is wet. Chills my soul right to the marrow." Yes, it snowed last night, then turned to rain and left a big chilly mess here.
Fourth, "Fifteen Feet of Pure White Snow" by Nick Cave & The Bad Seeds:
Where is Mona? She's long gone. Where is Mary? She's taken her along. But they haven't put their mittens on

And there's fifteen feet of pure white snow
That song is SO GOOD, here is the video (complete with dancing Russians): VIDEO – Fifteen Feet of Pure White Snow