I Wish You Could Smell This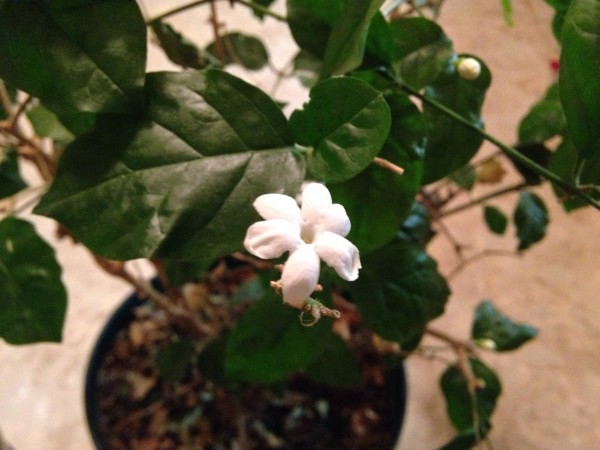 I wish you could smell this.
This flower smells so GOOD!
It's one of several flowers that have bloomed on my jasmine plant over the last few days. I walked into the kitchen and thought, What is that awesome smell? The whole room smelled good! (This may also have been due to the fact that I finally took the garbage out earlier that day.)
Long, long ago, in one of those lifetime-ago periods of my life, back in the last century, actually, a girl that I was seeing gave me a similar plant. I was newly divorced. This girl thought she would liven up my home by filling it with plants. Rubber plants. Aloes. Philodendron. A lot of the typical houseplants. And there was a jasmine plant, which was very popular in the country where she grew up, but called by a different name there. There was much ado about that plant. It was meant to be the queen among all the lesser plants that then occupied my home. I was fine with that because it smelled fantastic! It had a scent that lifted one's spirits. Beautiful.
An interesting thing about the jasmine flower: it lasts for not more than 24 hours once it blooms. Its fragrance is kept completely secret as the blossom matures. Then when it opens it spreads forth such a scent. It is a gloriously white flower with a soft texture. It is pretty to both the eyes and the nose. But the day after it blooms, its color begins to turn a pale pink. It withers. Falls to the ground. There is no longer any fragrance. It is sheer delight, then gone.
One day, the girl got mad at me. She took back the jasmine plant. She clutched it in her arms and said, "I don't trust you with this plant. You would probably kill it." She left. Eventually she faded. I don't remember her scent.
One day, another day, I came home to find the rest of the houseplants gnawed down to stumps in their pots. Dirt was everywhere. This caused me some consternation as no one had been in the house all day. Later, I discovered what annihilated my plants: A RAT!
There's really no analogy in the rat part of this story like there is in the jasmine part. Other than that maybe it was a sign that I was living in a real shithole and needed to move. Which I did. Quickly.
Then, one day, another day, a couple of years down the road, I found a plant with pretty white flowers in a garden store. "Jasmine? I once knew you by another name."
I bought the plant. No one can take it back. That makes it all the more enjoyable.
I wish you could smell it.