Throwback Thursday – "DR. IAN NUTCAKES ON THE PSYCHIATRY OF TIES, CUBICLES AND OTHER ARTISTIC REPRESSIONS"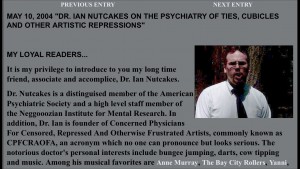 MY LOYAL READERS…

It is my privilege to introduce to you my long time friend, associate and accomplice, Dr. Ian Nutcakes.

Dr. Nutcakes is a distinguised member of the American Psychiatric Society and a high level staff member of the Neggooozian Institute for Mental Research. In addition, Dr. Ian is founder of Concerned Physicians For Censored, Repressed And Otherwise Frustrated Artists, commonly known as CPFCRAOFA, an acronym which no one can pronounce but looks serious.
For this week's Throwback Thursday, let's go way back. 11 years back.
(Herein lies proof that I was a nutcase at least as far back as 11 years ago.)
Click here => Heron Flight – May 10, 2004 – "DR. IAN NUTCAKES ON THE PSYCHIATRY OF TIES, CUBICLES AND OTHER ARTISTIC REPRESSIONS"