THIS ARTICLE IS FOR THE BIRDS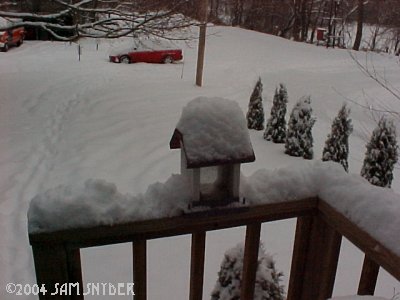 (Originally posted on the website Continuum…)
"HEY! You're stealing all my birds!"
So said the neighbor (who was kind enough to push my car out of the snow) when he saw me filling the bird feeders this morning.
Upon moving into our new place, we found an old bird feeder laying in the yard, half buried in the snow. I brought it into the house, "thawed it out," and cleaned it up. I bought a bag of birdseed, filled it up, and set it on the railing of our small back porch. It is just outside of the door where we can watch the birds easily.
It is amazing how quickly the birdseed disappears! That feeder has been empty each day when we come home. We are wondering how early in the day it is actually all gone. The birds must be spreading the word, bringing all of their friends around for lunch at our place. Looks like we are feeding the whole neighborhood now! There is a increasing number of bird tracks daily in the snow. In order to keep up with the demand, we bought another feeder and a suet block. Both of these are now hanging in a tree in the back yard.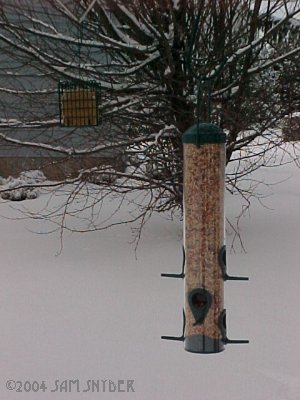 While unpacking, I found my book on birds of the eastern United States published by the Audubon Society. It's a nice book with tons of photos. It's very helpful when attempting to identify birds. Now we are keeping this book handy. It is becoming common to see us peaking out the back door, whispering, while passing the Audubon book back and forth.
I inherited my bird watching tendency from my mom and my grandmother. When I was young, they both often pointed out different birds. They both seemed to appreciate the abundant variety of birds, with all of their different sizes, colors, characteristics. As a kid, I learned to appreciate these things too. My grandmother lived in the country. There were birds everywhere. I had a bird book back then too, a small one with photos of birds for the northeast area of the States. I was eager and determined to spot every bird in that book.
Several years ago, an interesting thing happened to me in relation to a bird. It was shortly after my wife and I split up. I was driving the "Blue Bomb" home from work one day. I was very depressed. There was a scene playing over and over in my head in which I imagined my wife with a different man, happier than ever. At that time it was a tormenting thought. It was a hot day in the summer of 1997. I was driving down the highway, deep within my imaginations, when I saw something coming straight for my open driver's side window. It was coming down out of the clear blue sky – not flying across the road or down from a tree. Suddenly I realized it was a bird and it smashed with a sickening sound into the frame of the car window just behind my head. It was a sparrow. It left blood and feathers stuck to the car. Immediately, I remembered something that Jesus said:
"Are not two sparrows sold for a penny? And one of them shall not fall on the ground without your Father. But the very hairs of your head are numbered. Fear ye not therefore, ye are of more value than many sparrows." (Matthew 10:29 – 31)
It was almost as if God threw that sparrow right out of the sky and nearly hit me in the head to wake me up! It sure changed my perspective on the situation. I am not one to advocate mysterious signs from God. But this incident was a little out of the ordinary. Any other bird would not have had the same effect. A sparrow simply standing along the side of the road waving at me would not have done it. This one came hurling out of the sky and reminded me that there was something, Someone, bigger than the issue tormenting my mind. I saved a few of the feathers from that sparrow.
Well… So far we have spotted several different birds at our feeders. There have been many sparrows, mourning doves, starlings, blue jays, finches. This morning I was able to get a picture of a downy woodpecker on the suet block. I learned from our book that it was a female because it was lacking a red spot on its head. Another frequent visitor is a bird that I at first mistakenly thought was an oversized chickadee. After consulting the Audubon book, I found out that it is actually a dark-eyed junko. These seem to be the most abundant of the birds right now. I got a nice picture of one just outside our door this morning.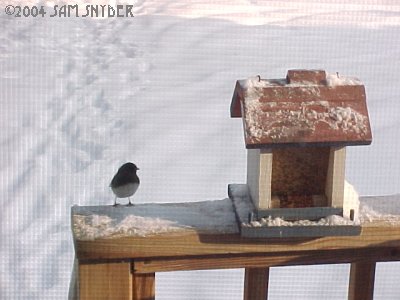 Actually, I think the neighbor is happy that all the birds are coming to us. He mumbled something about how filling the feeders every day is a pain. We don't mind (yet). There is something about bird watching that echoes with a primal desire for discovery within us. I am happy to see that my kids share this now. T said we should get more feeders. It is refreshing to see him interested in something like this and excited to learn. This is a good thing. When I see the sparrows at the feeder, I remember good things like these. I smile and I think, "God has brought me a long way since the days of the Blue Bomb! I shall fear not!"