Boro 5K in Washington, NJ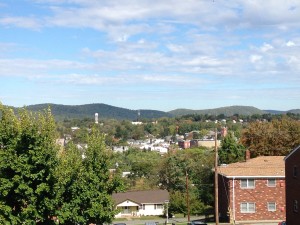 Yesterday, I ran a 5K in my hometown of Washington, NJ. It was the second annual "Boro 5K," something of which I am proud, seeing as my hometown is considered a "backward" town by many. For many years, there hasn't been much going for the town. There aren't many good jobs. To a large extent it's a bedroom community to many who crawl along in traffic each morning for several miles on Route 31 and then sit in more traffic for several more miles on I-78, who then slog their way through traffic again in the opposite direction back to their bedrooms each morning. They don't spend much of their money in Washington either. Other than a few grocery stores, most other shopping is done 10 miles in various directions away from Washington in Clinton, Hackettstown, and Phillipsburg. But I consider it my hometown and I was happy to run there on a perfect October day.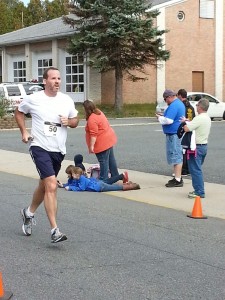 My ten year-old grandson ran with me. It was his first race. He was wanting to run one for a few years since I've been doing them. Since he's been using his recess time to see how many laps he can do these days – as opposed to swinging the swings to see how high he can get, or throwing a football with other boys and risking the lives of the frail children nearby, or purely heckling girls as I was known to do at that age, I figured it was time to let him take a crack at a race and see how he likes it.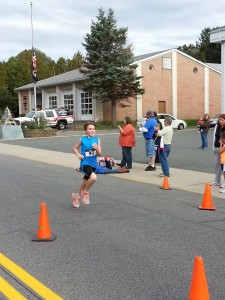 He did an awesome job! I pushed him a little at points to keep him going, used psychological tricks to distract his mind from what his legs were feeling ("Hey, doesn't that cloud look like an eagle? Makes you feel like your flying, doesn't it?"), and kept promising that we were almost to the water station.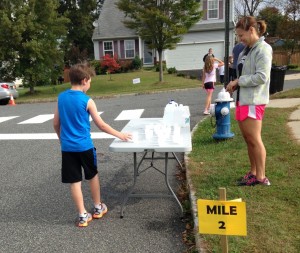 When we got near the end of the course, I said, "When we go around this corner, we only have a few blocks to go. So let's pour it on and give it all we got!" Going down that stretch we got faster and faster. A block and a half away from the finish line I taunted, "Think you can beat me?" My running mate the proved to all the world (meaning my little hometown upon which the entire world was focused at that second) that 10 is way faster than 50! I still came in under 28 minutes. That's acceptable at this point. But next time… That kid is going down!