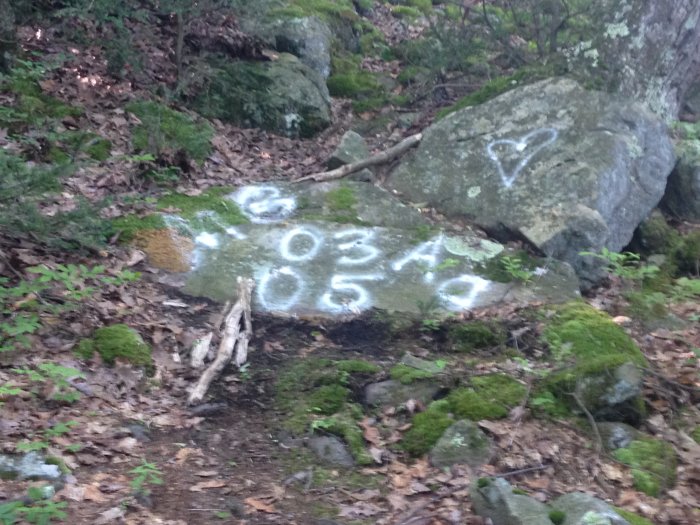 At some point early on Sunday morning while I was running my Tammany Loops (See my post: "Early Morning Tammany Loops".), during my second loop to be exact, some knucklehead spray painted the above endearment along the red dot trail. Some time between 7:15 and 8:30 AM the deed was done.
I remember what it was like being young and crazy about a girl, "in love," as they say. I remember writing a girl's name all over my desk in 6th grade. Come to think of it, I wrote a different girl's name all over a desk a few years later.
Then I remember an act of vandalism I inflicted upon the unused factory across the street from our house when I was 15. I spray painted letters on one of the doors. They were letters of true love. They were not for a girl. They were for a band.
LED
ZEP
My old neighbor, Mr. Bennett, thought for sure it was someone with the initials "LED" in love with someone else with the initials "ZEP." He was about 500 years-old, drove a big old station wagon, had a wife who was OCD about washing her hands constantly, and he had a plot of land a few miles down Route 31 where he grew an abundance of vegetables. He was kind enough to give our family plenty of tomatoes and zucchini. I'll never forget the day he pointed over toward the factory and said to me, "Look at that, Sammy. Must be somebody in love." I thought, You moron, it's a band! The best band in the world! Thinking about it now, he probably wasn't as senile as I took him to be and probably saw me painting the damn door the day before, like a knucklehead.
My family had a Ford Torino in those days. When my stepfather was at work and my mom was occupied with my baby sister, I would take the keys and drive that car, a pukey tan colored boat, up our gravel driveway onto the street, down the Bennett's driveway and around their house, over and over like it was the Indy 500. Mr. Bennett got a kick out of it. He also seemed to think I was as innocent as a Boy Scout. He never knew that I cut a corner too close and took a chunk of cement off his house with that Torino. (My stepfather took a chunk out of my hide that day though!) Mr. Bennett also did not know how I and my best friend, who turned me on to "LED ZEP" in the first place, used to throw the rocks from the gravel driveway to bust out the windows of that old factory. Sometimes we used our Wrist Rocket slingshots.
But I digress in telling you about what a moron I was as a teenager. All I intended to do with this post was say that there is really no excuse for graffiti in the woods. What is the point?? Or is "MB 03 05 A…(What is that? A backward D?)" a new band I don't know about? Either way, you got the first letter right: M. For moron. Because if you think the hikers and runners will pause to appreciate your sign of deep and true love, you, my friend, are a moron.