Geeking Out – My 2015 Running Stats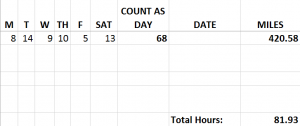 Seeing as 2015 just ended, I spent time updating my yearly running stats spreadsheet today. Yes, I am that much of a geek. However, while keeping a spreadsheet might make one a geek, if one does not evaluate said spreadsheet, one might not become a better runner… and one is not much of a geek either. So, I ran the numbers today.
It turns out, I ran on only 68 out of 365 days. That's only 18.6% of the days of the entire year.
My total mileage was 420 miles. That averages out to 6.17 miles, basically a 10K, for each of my 68 days of running. Sounds good, but there were far too few occurrences of running.
To be fair to myself, I have to state that 61 of these running days occurred over 8 months, April through November. January through March, I ran only 5 times due to an injury. (In December, I ran only twice due to laziness.) Without the injury, I might have run maybe 20 more times, based on the monthly running occurrences average during my 8 good months. That would have brought my yearly percentage of running days up to 24%, still not great, but better.
Also on the positive side, I ran 21 races in 2015. 5 half marathons, 3 10Ks, 5 5-milers, 1 3.8 mile trail race, 10 5Ks. Twice I ran a 5K and 10K on the same day. Here's my list of races:
I am satisfied with completing 21 races through the year, especially the 4 half marathons in close proximity to each other in the Fall. (More on these races HERE.) But I am not satisfied with my overall running experience through the year. Given the fact that I found myself in a total slump after Thanksgiving and 7 pound heavier at the end of the year, I need a different running strategy for 2016.
The first idea that comes to mind is that I need to run more frequently. I need to get my motor running more often. In 2015, my focus was primarily on distance: long distance runs for the sake of multiple half marathons. But I think it that caused me to run less often due to psychological and physical challenges. Long runs also left me hungry for the rest of the day, ravenously so on some days. Without more frequent episodes of running, I often consumed more calories than I burned off for any given week. That explains the phenomenon of running 5 half marathons and not losing any weight. Running more frequently would get my motor running and burn calories more consistently.
So, going back to the numbers. 68 running days averages out to 1.3 per week. I plan to double that by running 3 times per week. If I do that, it will work out to 156 running days. If I focus on running only 3 miles each time, the mileage will work out to 468 miles, very close to my 2015 miles. To make each run more beneficial, I will put more emphasis on time spent on each run rather than the mileage. 45 to 60 minutes per session will be beneficial for fitness and weight loss, provided I can keep the Ring Dings out of my mouth. (More on Ring Dings HERE.) 45 to 60 minutes will give me 4 to 5 miles per run. 156 X 4 = 624 miles. Not too shabby. 156 X 5 = 780. Not shabby at all!
In addition, I need to add more speed work, intervals, hill repeats, etc. to my running sessions. I need to throw in some strength training. Do a squat or two. Maybe a plank now and then. I plan on doing races through 2016, probably not as many as 21 this year. A few half marathons in the Spring and a few in the Fall with a handful of 5 and 10Ks sprinkled in will be good. But my focus will be on running frequency, strength, speed, weight loss, and enjoyment. I want to finish 2016 being faster, stronger, happier, and with significantly more rows in my 2016 spreadsheet.