The Best Laid Plans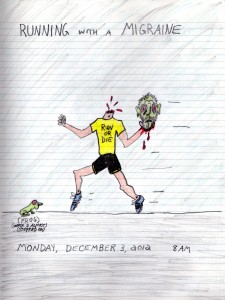 "The best laid schemes of mice and men often go awry." So said Robert Burns, apparently "to a mouse."
"The best laid schemes of mice and men often go awry… and sometimes they get absolutely crushed and the universe leaves you feeling like a turd." So says Sam Snyder to whomever wants to listen, be he vermin or otherwise.
Such crushing happens when a migraine strikes. It makes it extremely difficult to maintain one's plans when one feels like they can barely put one foot in front of the other. When you can't move your feet properly, it becomes darn hard to run! This is how my running plans went awry yesterday.
With my new focus on more frequent running, I had plans to run yesterday and a pocketful of motivation to go with them. Even though I woke up at 3:30 AM with a migraine in progress, I still held onto hope that I would power through and run at lunchtime. I worked from home because I had way too much to do after being off for New Years. I thought about taking the day off and lying in bed in my misery. But that usually doesn't help me when I have a migraine. Usually I can't sleep. It seems better to work through my misery than to lie in it.
By the time lunch rolled around my pocketful of motivation was greatly diminished, as was my physical energy and my optimism toward life in general. It just wasn't going to happen.
So, I planned to run at 4 PM when work was done.
At 4 PM there was a giant gaping hole in my pocket of motivation.
At that point I decided it would be torturous to run while feeling so ill. I have done it before. The first time was 3 years ago, as indicated in the picture attached to this article. That was a training run. For a long time, I knew I had to one day run with a migraine to see what happened. Nothing happened. The only difference was that, instead of being a lump of human refuse, I became a sweaty lump of human refuse. It didn't do any harm. It didn't do any good. I have also run two 5Ks with a migraine… because why waste my prepaid registration fees? At the first one I won first place in my age group. The other 50 year-olds must have been on crutches or something. I ran the second race because there was pizza served at the end. I would do nearly anything for pizza.
So as to not have my plans completely spoiled yesterday, I decided to walk at 5:30 PM. It was 18 degrees and felt like 4 with the wind. I figured that I felt so bad already, what big deal would it make to add frostbite to my condition? So, I walked a 5K. It didn't do any harm. It didn't do any good.
Having gotten a little exercise in, I ordered a pizza for myself. Like I said, I would do nearly anything for pizza, especially when I have a migraine. I don't know what causes it but when I have a migraine I almost always end up craving pizza. It's all I could think about on my walk. When I had 15 minutes of walking left, I called in an order for a large pie. The pizza guy said, "Give me about 15 minutes." I said, "Perfect!" This part of the day went exactly according to plan! I ate 7 slices. No longer was I merely a lump of human refuse. I was a mound of it.
To sum up: My plans were severely altered thanks to a migraine. I did get a little exercise in. Then I promptly obliterated any benefit from said exercise by eating enough pizza for 3 1/2 people. Yes, yes, I did.
Today, I did better with my eating and ended the day with calories to spare. Plus, I ran 4 miles at lunchtime. It was a good run. My energy was a bit on the low side after the migraine. But I got out there and made a good effort of working off one of those slices of pizza.
While the best laid plans of mice and men often go awry, we must remember that this is sometimes because God loves us and wants us to eat more pizza.