Again?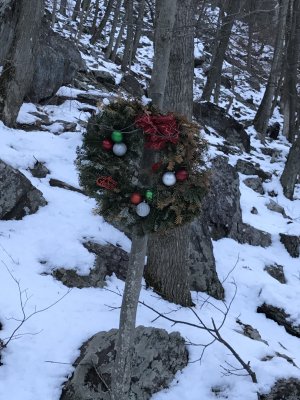 Week 3 of my 50K training. I was shooting for 12 miles this week. But seeing as we had a nor'easter AGAIN a few days ago, I was sure the trails would be covered even more than last week. I knew that attempting to gain miles via the Tammany Fire Road was not a workable plan. Reaching 12 miles by doing Tammany loops (3.35 miles each) would mean up and down Mt. Tammany 4 times. When I got up at 4:30 AM I knew I didn't have it in me to make it 4 loops, especially with increased snow on the trails.
When I arrived, I soon found that the snow was deeper on the trails as I suspected. It was mildly packed on the Red Dot Trail. It was less packed on the Blue Dot Trail. That made for a super fun descent on the mountain. Most of the rocks were well covered. Running on the narrow slightly packed single tracks was a breeze. The steeper sections of the trail were less packed and a lot of fun to careen through! I knew if I fell it wouldn't matter. I would just land in deep snow. It felt like being a kid again! Plus, I set my fastest times ever on that trail. But I only had enough in me to do 2 loops, not nearly 12 miles.
Here are several photos.