Day 2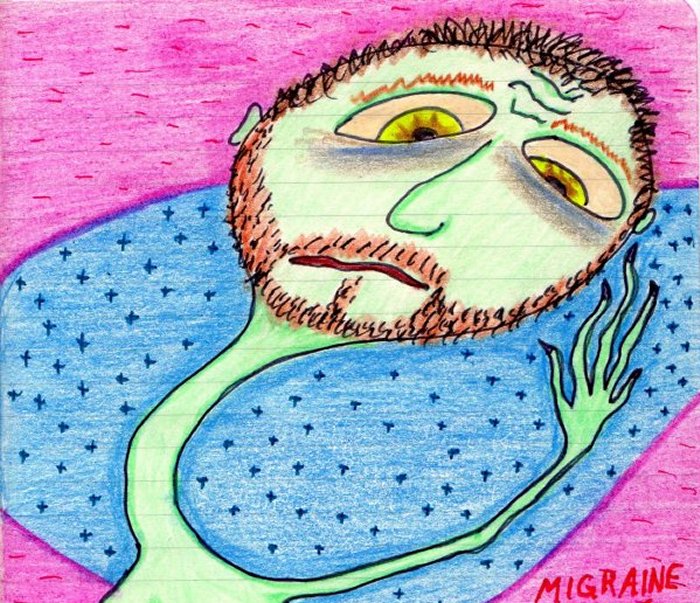 The Morning
I started my day with a big cup of… NOTHING.
That's right. I had to be at physical therapy at 7 AM. I figured, since I'm not drinking coffee right now, there's no point to getting up early. I got up at 6:18, showered, and drove to my appointment – almost getting killed on the way be some numbnuts who pulled out of the high school while I was passing someone on the right. No, it's not my fault. I have no, well minimal, caffeine in my system.
BONK! Right in the Head!
At 10:30 AM, I noticed a little spot in my vision.
I was afraid this might happen if I inflicted this cruel and unusual punishment of no caffeine upon my body. A doctor once told me, "Migraines are finicky when it comes to caffeine. If your body is used to a certain level and you have too much more or too much less, it could trigger a migraine." You have to keep your caffeine level steady, more or less. Rather, not more or less.
At the time of this writing, 2:51 PM, my condition is not too bad overall. My head hurts and I feel a bit wiped out. But I'm getting work done. (Actually, I'm not getting work done exactly right now because I'm writing this blog post.) I think I'll live. AND the Mrs. Snyder and I are going out on a date tonight. So that makes me feel better too!
Defeating My Own Purpose
Here's the kicker of this medical interruption today. I'm avoiding caffeine to see if it helps my body be less tense. My body reacts with a migraine. Then I take my pills so I can cope with the way my body feels. And guess what is in my pills… A TON OF CAFFEINE! I have defeated my own purpose today.
To be objective, there could be several different reasons why this migraine came today. Typically, when I get a migraine, the weather is nice and clear with a high pressure system. It's like that today. Often I get migraines due to highly stressful circumstances. MY CURRENT LIFE = HIGHLY STRESSFUL CIRCUMSTANCES. Avoiding caffeine is one attempt at helping how I react to those circumstances.
I did have a cup of caffeinated green tea while writing this. What the heck now, right? But I'm not going to have coffee. That would not merely defeat my purpose. It would DESTROY it.
UPDATE @ 6:01 PM