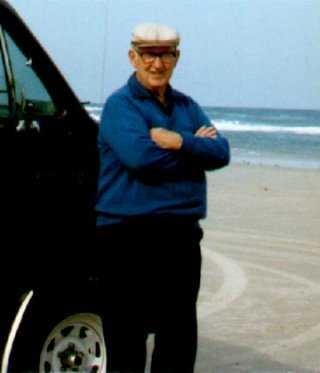 (Originally posted on the website Continuum…)
TODAY is my grandfather's birthday. He passed away in 1993 after suffering through several strokes and other health problems. Today he would have been 90 years old.
THROUGHOUT the day, I thought a lot about Pop. God, how I miss him! With Gram passing just a few weeks ago, some of the grief of Pop's passing has been brought back to the surface. Pop and Gram were one. It is now impossible to miss one without missing the other.
THE FOLLOWING is a song by Mark Heard who passed away several years ago at the age of 42. The song is about a friend of his who had died. The song expresses a faith that refuses to believe that death is final. It is full of a love that reaches beyond the grave. Its underlying pulse is a confidence that the writer and his friend will one day be reunited.
I HAVE often thought about Pop when I have listened to this song. At times I have cried with such a desire to see him and to talk to him again. "I see you now and then in dreams. Your voice sounds just like it used to. I know you better than I knew you then. All I can say is I love you." My how those lines touch something so deep in my heart in relation to Pop! "I thought our days were commonplace, thought they would number in the millions. Now there's only the aftertaste of circumstance that can't pass this way again." Oh how those lines cause me to miss him! How they bring up so many happy memories of days with Pop! What I wouldn't give to have one of those days now! What I wouldn't give to hear one of his jokes, or to go to a hockey game with him, or to hear him call me Jesse James when he caught me sneaking candy from the candy case at his diner as a kid. How I wish I could just be near him and sense his strength! He was a leader in our family. He was not afraid to go before us. He knew that we would follow. God, how I love him!
TREASURE OF THE BROKEN LAND
In Memory of Edward Durnin
January 25, 1911 – June 13, 1993

I see you now and then in dreams
Your voice sounds just like it used to
I know you better than I knew you then
All I can say is I love you

I thought our days were commonplace
Thought they would number in millions
Now there's only the aftertaste
Of circumstance that can't pass this way again

Treasure of the broken land
Parched earth, give up your captive ones
Waiting wind of Gabriel
Blow soon upon the hollow bones

I saw the city at its tortured worst
And you were outside the walls there
You were relieved of a lifelong thirst
I was dry at the fountain

I knew that you could see my shame
But you were eyeless and sparing
I awoke when you called my name
I felt the curtain tearing

Treasure of the broken land
Parched earth give up your captive ones
Waiting wind of Gabriel
Blow soon upon the hollow bones

I can melt the clock hands down
But only in my memory
Nobody gets the second chance
To be the friend they meant to be

I see you now and then in dreams
Your voice sounds just like it used to
I believe I will hear it again
God how I love you

Treasure of the broken land
Parched earth give up your captive ones
Waiting wind of Gabriel
Blow soon upon the hollow bones

From "Satellite Sky"
By Mark Heard