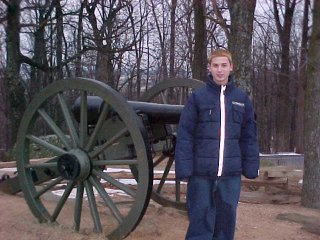 (Originally posted on the website Continuum…)
ON NEW YEARS DAY I did what Friend J refers to as "driving home." This time it was a longer drive home than usual. Basically "driving home" refers to traveling out past Harrisburg, PA to pick up H and M. I normally do this on a Friday night after work, going straight to Harrisburg, tossing the girls into the car, and driving straight back home. Then, at the end of their visit, I "drive home" again, this time tossing the girls out of the car. (Fear not! Children are resilient!) This particular "drive home" was longer than usual because X.2 asked me to meet her in Frederick, MD. Being the nice guy that I am, I agreed to drive farther this time to give her a break. Besides, Frederick is close to Gettysburg, and I thought I could do a little site seeing on the way back.
So the story begins…
I AWOKE with plenty of time to get on the net for a bit, have my tea and then shower. I was determined that I would be ready to leave the house with time to spare this time. All was progressing according to plan until just after the shower. At that point the "Battle of Snydersburg" began with a bang.
Just as I was finishing my shower, one of the little ones knocked on the door and said, "I have to go to the bathroom." I replied, "I'm getting out now. Just let me dry off." "Ok, Daddy." I dried off, put my shorts on, opened the door and beheld the aforementioned little one peering up at me through a pained look.
"Daddy… I couldn't help it!! The **euphemism** just started coming out!!"
At that point I looked a little lower to see that this little one had no pants on and the **euphemism** was still "coming out!" She tried to take a step and I said, "NO!!! Don't walk!! Stop the **euphemism**!!"
I panicked my way into the kitchen for paper towels. And sure enough… There were only three sheets left and it was the last roll. Typical. Bowels never burst forth when you have a warehouse full of cleaning supplies!! No, they wait to catch you off guard and then "BLAM!!" Well… As the saying goes, "**Euphemism** Happens!"
So I cleaned the child and the floor with napkins as best I could. I survived the "enemy's" first onslaught, but the second attack was only moments away…
HAVE YOU EVER ever tried to wake up a 16 year old son after he stayed up to watch the ball drop on New Years Eve and tell him that he had to get ready to go on a 6 hour "drive home" with you? Yes, that is just asking for a battle! And a battle we had! It was loud! It was heated! It was life or death! I will spare you the agony of reading the gory details. I'll just say that I was able to subdue the rebel and drag him along for the trip as my hostage. By the end of the day, he had had a great time. But I can still hear the shots ringing from this early morning encounter.
BY THE TIME we finally got on our way it was 11:30 – one hour behind schedule. Plus we still had to stop for lunch and **euphemism** medicine. We didn't leave our hometown until 12:30. We were pretty late then. I don't know which I worried about more: the hassles with X.2 when I showed up late or my own disappointment if I couldn't make it back to Gettysburg before it got too dark to take pictures.
More than half of our trip went without event. But a little past Harrisburg, I heard a young voice from the back seat say, "Daddy, I think I have to use the bathroom." I turned to see that pained look grimacing back and we jumped off at the next exit. We spotted a Burger King straight ahead. I drove 90 mph and straight into the ladies' room! I waited outside the door while my little one answered "nature's scream". (Thank God for restaurants with bathrooms!) After several minutes, the door to the ladies' room opened. There stood my little one saying, "Daddy… the **euphemism**…" with her undies hanging from her pinched fingers.
"Throw it away! Throw it away!! THROW IT AWAY!!!"
We had to make one more emergency pit stop along the way. We finally made it to Frederick, late but without hassle. X.2 was late herself.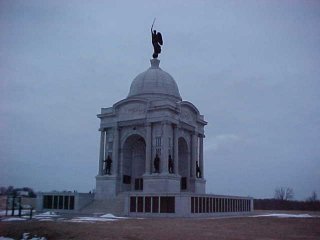 J AND I made it to Gettysburg around 4:30. The sky was cloudy and there was an icy wind blowing across the battlefield. The whole place felt haunted. It felt like we were trespassing. We had enough daylight to drive around the southern end of the battlefield, through the Round Tops, past the Pennsylvania Monument, the Angle and Bryant's Farm.
Once you reach Bryant's Farm you are on the edge of the town of Gettysburg. The cemetery is near that point. I parked the car and ventured into the cemetery alone. J was too cold and hungry. He waited in the car. There was hardly any daylight then. Dusk was waning and the night was yawning over the place. I ran through the cemetery in order to stand where Abraham Lincoln stood when he delivered the Gettysburg Address. Nearby, there was a row of graves classified as "Unknown." I stood for a while, staring at one of the markers, wondering who was beneath me, wondering where he was from. Did he have a wife? Children? Where on this battlefield did his blood seep into the ground? My thoughts were getting icy like the wind. If I believed in ghosts I would have sworn that you could sense restlessness rising from those graves. It was time to retreat to the car.
Before we left Gettysburg, we stopped at the only gift shop that was opened. It is called An Early Elegance. We were greeted by the owner, a very pleasant woman named Mary. J picked out a "souvenir" to which my only comment was, "You came all the way to Gettysburg, this historical place, and that was what you chose for a souvenir??" He was happy nonetheless. (Click HERE to see J's souvenir.) I picked out a book. (I can always rationalize my need to buy a book at any given time.) Mary packed our items and also gave us a big bag of celery and carrots, a nice bag of pretzels and assorted chocolates for our journey home. Her kindness is much appreciated! When you get to Gettysburg, give her my regards.
SO… after 360 miles, 7 1/2 hours, 3 public restrooms, and a spent tank of gas, I had literally gone full circle and was finally home. But the day was not over. I still had to drive another 20 miles to pick up S and T…
"Tighten the ranks, fellas! A soldier's duty never really ends!"