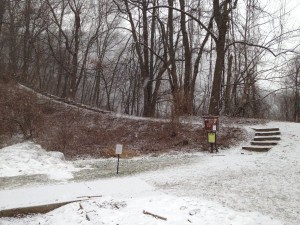 I went to the Delaware Water Gap to do some trail running this afternoon. The weather called for a few inches of snow. I thought I would take my chances and go anyway. I've been getting antsy for a trail run. The last time I ran on the trails was the day after Thanksgiving.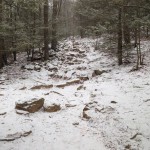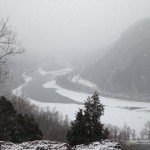 A light snow fell through the afternoon. It quickly made for slippery footing. I wasn't able to run as much as I would have liked, but hiking through the woods in the snow was a peaceful experience.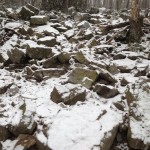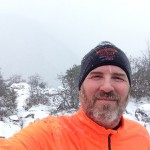 I took the red trail up Mount Tammany. Halfway up, I passed another guy on his way down. We were passing through a steep rocky section. Both of us were concentrating on our footing. Neither of us said a word to the other, passing some ten yards apart. I saw no one else on the way up. Visibility was rather low by the time I reached the top of the mountain.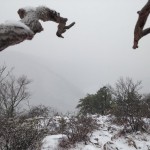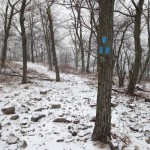 I took the blue trail down the mountain. This allowed for some running even though the ground was fully covered with snow by that point. I knew it was risky but I couldn't resist. I caught up with four guys making their way down the mountain. They were bundled up and evidently didn't hear me coming with their hoods tight around their heads. Either that or I was silent like a ninja in the snow. As I went around one of the guys, he jumped and said, "Shit, that guy scared me! Where the fuck did he come from?" Then he added, "Well, that guy's got the right idea." Fifteen minutes later, I, for one, did not think I had the right idea.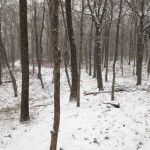 There is nothing more slippery than ice. Well, snow on top of ice is more slippery. Actually, snow… on top of ice… on a hill is some really slippery stuff! I was almost to the bottom of the mountain, approaching the stream, coming down the hill that leads to the bridge. Suddenly, I was on my back looking up at the falling snow! There was a section of ice from a nearby spring and it took me down quick! "That guy's got the right idea" my ass! My aching ass!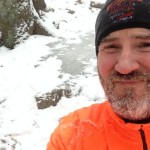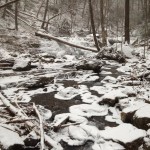 There was no more running for me. Done. It was just too dang slippery. I had a quarter of a mile to go to get back to my car. I was almost there when… BAM! Flat on my back again! I landed so hard that I'm pretty sure my entire skeleton exploded and then snapped back into place. It probably improved my posture. It wrecked my morale. I thought about crawling the rest of the way. I was done being a ninja. It was time to get in the car, thaw out my beard, and drive home.