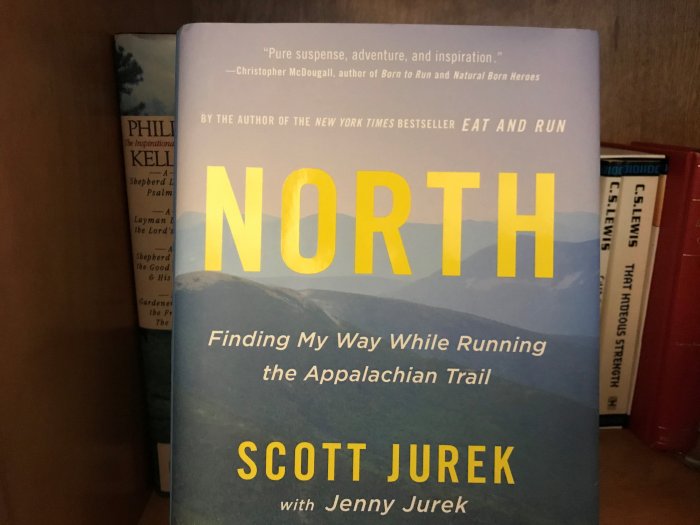 Inspiration Needed
Given that my level of physical activity has been so long for too long, as I wrote about yesterday, I felt in need of a book to read that would inspire me to get motivated and pick up the pace, especially in light of a 25K trail race on my horizon in April.
The first book that came to mind was North by Scott Jurek. The first reason this book is an inspiration is that Scott Jurek himself is an inspiration. Just look at some of these accomplishments:
Appalachian Trail Speed Record: 46 days, 8 hours, and 7 minutes: 2,189 miles – 2015
U.S. record for 24-hour road run: 165.7 miles – 2010
7 x consecutive winner of the Western States 100 Mile Endurance Run – 1999-2005
2 x consecutive winner of the 135 mile Badwater Ultramarathon – 2005, 2006
3 x consecutive winner Spartathlon 152 miles-Athens to Sparta, Greece – 2006-2008
That should be more than enough inspiration for any runner. Much more is listed on his website at www.scottjurek.com/about-scott.
My Connection
The second reason that this book is an inspiration to me is due to my long connection with the Appalachian Trail. I remember dreaming about hiking the whole trail as a kid before I ever set foot on it. It's still a dream, but in reality my experience of the trail is limited to several miles in New Jersey and Pennsylvania on either side of the Delaware Water Gap. Even so, there is a certain magic I feel when I'm on the Appalachian Trail, a sense that if I really wanted to, I could keep going for hundreds of miles in either direction. I remember when Scott ran the trail in 2015. I followed him on social media. I regretted not being able to be at the Delaware Water Gap when he crossed into New Jersey. I read North when it came out in 2018. I laughed. I wept. I ran more. I'm trusting it will have the same effect on me on my second read.
Read more of my Appalachian Trail related posts at this link.
A Sign from the Running Gods?
So, I pulled North of the shelf. How should I break down the pages to finish before the Hyner Challenge in April? What about a chapter per week starting tomorrow, Saturday, January 2? Let me check the number of chapters: 17. What is the date of the race? Saturday, April 24. Let's see how many Saturdays there are between now and then. January 30 will be 5. February 27 will be 9. March 27 will be 13. April 24… race day… will be… 17! No way! 17 Saturdays! 17 chapters! Finishing the last chapter on the day of the race! Perfect!
God help me run!