NEITHER RAIN, NOR SLEET, NOR THE LACK OF A STAGE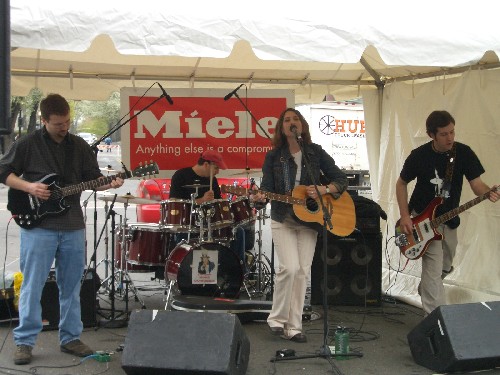 (Originally posted on the website Heron Flight)
Thunderstorms plus electric guitars and amps sounds like a mighty dangerous combination! Wasn't it Jimmy Page who was nearly electrocuted at a rainy outdoor concert back in the 70s? All the sparks and high voltage might make for a great stage show. But only once! If the mighty Led Zeppelin cancelled the show, should we take the chance?
We were scheduled to play in Princeton, NJ at 12:15 PM on Saturday. I woke at 6 AM and could not lay still. I was too excited. So I decided to beat the weather and load the drums in the car early. It was drizzling by 6:30. By 7:00 it was pouring! According to weather.com, there was a 90% chance of rain and thunderstorms for the Princeton area on Saturday afternoon. Most of the week prior had been perfectly sunny. It was disappointing that it was raining on Saturday.
However, I said that if there was a 90% chance of rain then that meant that there was a 10% chance of sunshine! 10% is a significant margin of possibility! It is ten times more than 1%. If we focused on the 10% we just might have a 100% good day!
And so we did!
My friends Landon McDonald and Oran Minikus had the opportunity of playing with Angela Clerico for this show in Princeton. The three of us had been playing together at the beginning of the year. I worked with Angela on some of her original music last summer. She recently got in touch to ask if I had any interest of doing studio drumming for her. I said, "Sure!" and told her of Landon and Oran. At the beginning of April, Angela told me that she was invited to play at Princeton's "Communiversity Day." She asked if the guys would be interested in playing several songs as a band with her. I said, "Universal Commie Day? Sure!"
All social agendas aside, we were able to pull together six songs for the show. We did "Moondance" by Van Morrison, "Hard Day's Night" by the Beatles, "You Wreck Me" by Tom Petty, and three of Angela's original songs (which are damn friggin' good!). We received good applause after each song, applause that was almost loud enough to drown out the shouts of the guy hawking his kettlecorn nearby.
Here's a video of Angela's song "Hit the Road."
It did not rain at all while we were in Princeton. That is a good thing because we were forced to set up directly on the pavement on Witherspoon Street. We arrived early and waited for nearly two hours for the stage guys to come and set up the stage. Instead, at noon, 15 minutes before show time, the canopy guys hopped out of a truck and set up… no, not a stage… a canopy, of course. They anchored that sucker down and told us to go ahead and set up. If you look closely at the picture above, you will see that just to the right of the guitar case in front of my drum set is something that closely resembles a manhole cover. Funny thing! It IS a manhole cover! What a great disappearing trick that would make for a stage show if Angela suddenly dropped down into that thing! But that could be a risk worse than the possibility of electrocution. Only God knows what lurks in the sewer ways beneath the streets of New Jersey!
All things considered, we had a great time playing in Princeton. It was a lot of fun. I think my 10% theory paid off. The sun came out later in the afternoon. We all had lunch together. We bought bags of kettlecorn, the quality of which definitely legitimized the hawking. The booths were interesting, especially the one where you could put complaints about the president on Post-It notes and stick them to a representation of Dubbya. But that's a song to sing at another time.